Ninety-four-year-old huntress shoots another deer, vaccine mandates affect Hunter Ed, and more December deer hunting news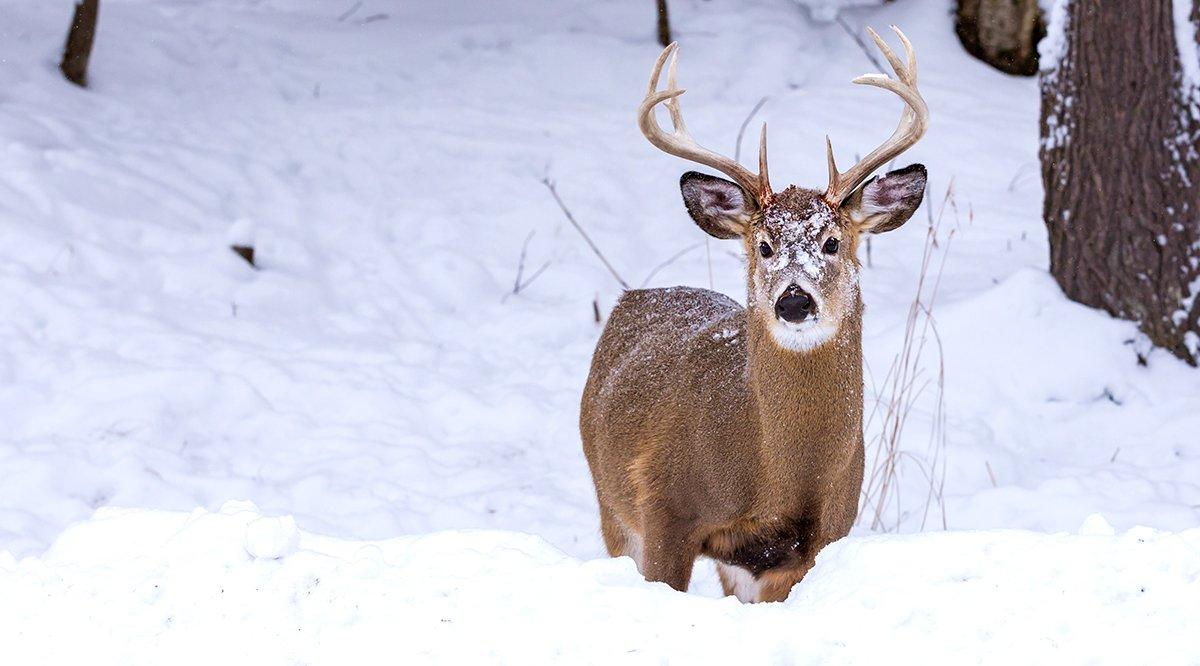 Best Kill of the 2021 Season
Some mega bucks have been harvested across the country, but to me this kill near Torrey, Virginia, is hands down the best.
Virginia Dunning, 94 years young, went out one day in September and shot a fat doe for the freezer. Virginia's daughter, Betty, who was along on the hunt, says her mom has killed 30 deer over the past 50 years, most of them bucks. She was absolutely thrilled, said Betty. She told everyone she called, 'I am 94 and I've still got it!'
Buck Swims Mississippi River — Twice!
Buck No. 140 surprised researchers from the Mississippi State University Deer Lab when he left his home range in Issaquena County, Mississippi, and traveled 18 miles into Louisiana, swimming across the mighty Mississippi River in the process.
Five months later, the buck swam the river again and according to GPS tracking was back in his home range in Mississippi.
The distance Buck No. 140 traveled round trip, more than 40 miles including the extreme swimming, amazed biologists. This guy is an extreme case of mobile personality on steroids, said Steve Demarais of the MSU Deer Lab. The fact that he swam the Mississippi River twice … that's why I say, 'on steroids.'
Craziest Story of the 2021 Season
A St. Louis Cardinals pitching prospect was bowhunting in Wisconsin when out of left field he was bitten by a black bear.
Dalton Roach, who plays for the Double-A Springfield Cardinals, told the Eau Claire Leader-Telegram he was 20 feet up in a treestand when he spotted the 300-pound bruin moseying along. Roach lost sight of the bear and was about to forget about it when he heard scratching behind him. The bear had climbed the tree and then bit the bowhunter on the back! Roach began yelling. The bear scurried down and walked off, and Roach headed to the hospital, where he got the wound cleaned and the first of 22 shots of rabies vaccine.

Vaccine Mandate Affects Hunter Education
Firefighters, police, EMTs … and now hunter-ed volunteers. According to Fredericksburg's Free Lance-Star, Virginia's vaccination or testing mandate may result in the loss of up to half or more of the volunteers in the Virginia Department of Wildlife Resources' Hunter Education Program.
According to the paper, a VDWR email to participants said: If you are not fully vaccinated, we will not be able to utilize you as a volunteer for future events, until (the vaccine mandate) expires or you become fully vaccinated.
As deer season started in October, some hunter-ed classes were either drastically short of volunteer instructors or cancelled entirely. Another ugly downside of the pandemic, and no good for kids and newbies wanting to join our hunt club.
Should You Eat That Deer?
First it was the threat of lead poisoning …
Then, in areas with documented cases of chronic wasting disease, health officials advised not to eat a deer unless it tests negative for CWD.
Now, is your venison contaminated with hazardous chemicals?
In November, Maine wildlife and health officials issued a Do Not Eat advisory for deer taken in the greater Fairfield area. The advisory was issued due to high levels of the chemical PFOS — perfluorooctane sulfonic acid, a type of PFAS — found in five of eight deer tested in the area.
PFAS are man-made chemicals used in many industrial applications and consumer products. Studies of people who have been exposed to PFAS have shown risk of high blood pressure, risk of preeclampsia in pregnant women, and increased risk of kidney or testicular cancer.
Currently, the Do Not Eat warning applies only to deer killed in the Fairfield area, but there is concern that it in the future, it could spread to other parts of Maine and to other states. PFAS have been found at low levels in both the environment and the blood of a majority of the U.S. population.
(Don't Miss: Why the .300 Blackout Is a Great Deer Round)