It's summer, and there's junk you need to purge. Here's what to trash and what to keep
Right now, there's a flatbed trailer parked in my driveway, stacked high with a magnificent pile of junk. I see an old grill, a mini fridge that hasn't worked in five years, dull lawnmower blades, and a storm door with broken hinges. I'm almost afraid to write about it, for fear someone will come steal the scrap metal.
I'm not the OCD type, but there's something satisfying about decluttering (and popular too, since a Google search on the topic turned up 28 million results). The effort spent on the side shed has me thinking about my hunting gear ahead of fall. I'm bad about keeping stuff that I might use later when in reality, some of that stuff either has a finite shelf life, or really should go because replacing it has big benefits. If you're thinking of hunting gear to sell, trash, or donate to make space, this is where I'd look first.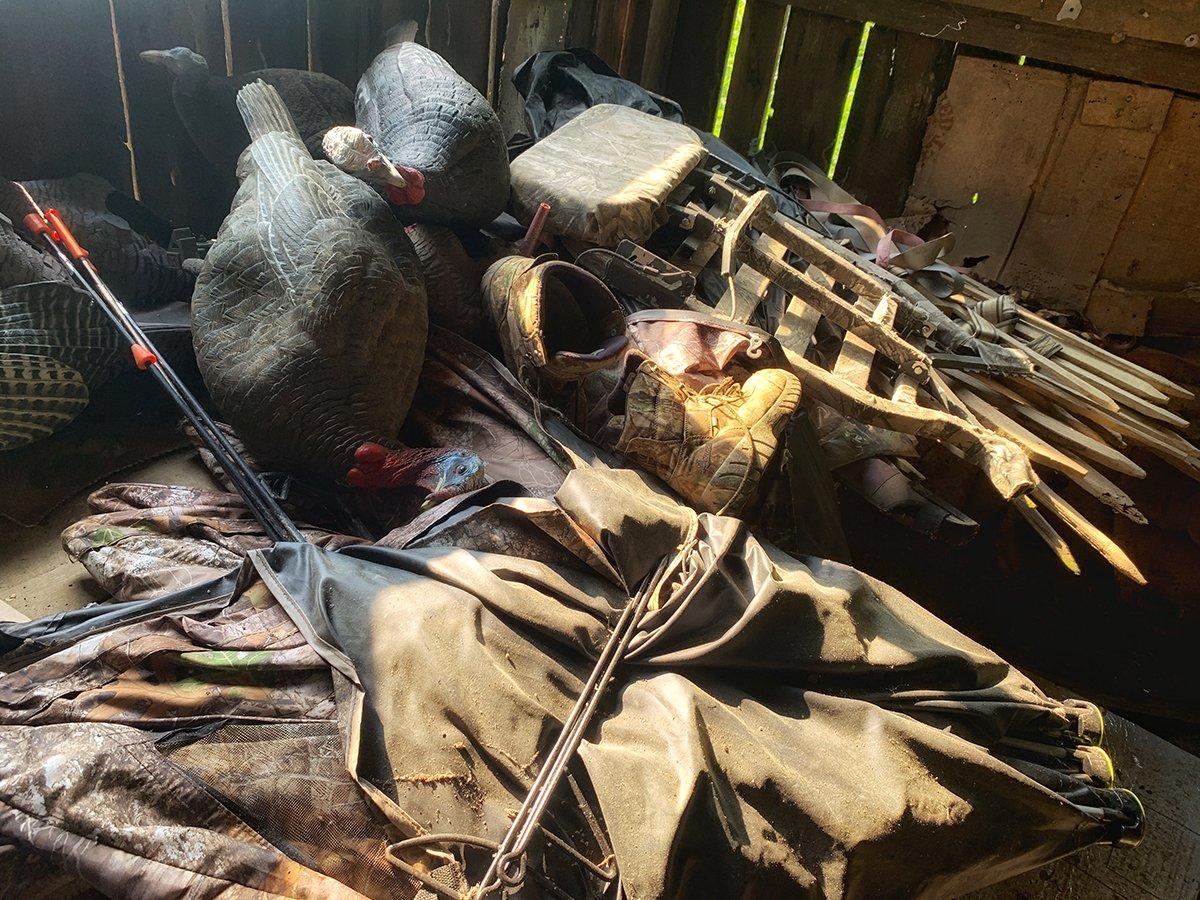 Pop-Up Ground Blinds
I use ground blinds all the time, but I don't get attached to any of them. Left in the elements for a season, even the best fabric gets brittle, tears, and fades. Rods and hubs break in the wind and under the weight of snow. High-end blinds might last a few years with care, but even they're perishable.
I don't mind spending extra on good gear, but with ground blinds, I've found that I'm actually ahead money to buy a couple of cheap ones for the price of a top-shelf model. That gives me a back-up blind if I need it, or options for multiple setups. In the offseason, if I find that the fabric on the blind rips after little more than a sideways glance, or that a rod is busted, I'm not breaking out tape and splints to fix it, because that blind will not survive the season. I throw it away and move on.
(Don't Miss: Prep Now For Your Best Deer Season Yet!)
Old Bows
Yes, your 10-year-old bow still kills deer. But don't close your mind to an upgrade out of hardheadedness. Bows have advanced significantly over the past decade. Flagship models from all the top brands are faster and quieter, vibrate less, and are easier to shoot and keep in tune than even the best bows of 10 years ago were.
Some archers like to buy a new bow every season. That's not necessary, but if you are a serious bowhunter, at least take the time to visit a pro shop and shoot the newest models from various manufacturers every four or five years. You probably won't get more than a few hundred bucks selling your old one, but that'll cover some accessories. If you're really feeling generous, give it to a new hunter who can't afford a new bow.
(Killer Buy Alert: Realtree Logo Black Mesh Back Richardson Hat)
Clothing and Boots
I tend to pick a hat and wear it awhile, and for six or seven years, the hat that fit me best was a Buck Knives cap in Realtree Xtra. But a few years ago, I was trying to sneak up on an antelope with my bow while my buddy Miles watched from his pickup with a spotting scope. Dude, your hat looked like a white marshmallow moving through the sage, he said. I could see you the whole time.
Camo fades. Stitching tears. Boot soles wear out. I've always kept old hunting clothes and boots, even if I didn't wear them. But truthfully, I wear about two pairs of hunting pants all season long, and a mix-and-match set of layers to match the conditions. You're better off with a dedicated outfit of good clothing than a pile of motley crap.
(Don't Miss: What Will Deer Hunting Be Like in 10 Years?)
Rifle Scopes
When I was younger, I focused way more on the guns I bought than the scopes I put on them, and so I ended up with several nice rifles topped with cheap scopes. I've found that replacing some of those old scopes with newer, better ones can be almost as good as getting a new rifle.
Fully multicoated optics, better reticles, adjustable turrets that can be customized to your caliber and bullet, and weatherproofing all help make today's rifle scopes better than the scopes of 15 years ago. Some of them are really expensive — but if your gun sports a $50 junker and see-through rings from 1996, a $300 scope paired with good rings and bases is a massive upgrade.
(Killer Buy Alert: Men's Realtree Turkey Flag Short Sleeve Gray Shirt)
Trail Cameras
My trail cameras suffer the same fate as my ground blinds. I use them hard, and they sit out in the weather for months at a time. I do pull them at the end of deer season and remove the batteries and SD cards. While I have a few old warriors still in rotation, I've found that most cameras give me about three seasons before crapping out. Defunct trail cameras take up a lot of space — but they do make nice deterrents when hung underneath No Trespassing signs. Either way, get them out of storage and out of the way.
(Don't Miss: 10 More Deer Hunting Myths Debunked)
Bonus: The Salvage List
Some stuff lasts longer than you'd think. My Summit climbing stand is close to 20 years old, but I replace the cables on it every few seasons (it's about a $50 fix), and it's still as solid as the day I got it. Good ladder stands last awhile, too, but replace the ratchet straps every year. I don't trust a lock-on stand that's been in a tree more than a couple of years, because I've heard too many horror stories of breaking support cables.
Small engines — outboard motors and ATVs — can usually be repaired into serviceable shape for far less than they can be replaced. And of course, many guns seem to get better with age; one of my favorite .22 rifles is a 70-year-old Marlin 39A, and I put a thousand rounds through it on a Wyoming prairie dog town just the other day. Hand-blown game calls can sound a little sweeter once they're worn in, and decoys can always be repainted.
Make room for that stuff and hang on to it.