These states offer millions of acres of public land, snow in the forecast, and plenty of deer to hunt
Many of us dream of hunting bucks one-on-one with snow on the ground. You can find plenty of instructions on how to do this in the popular press, but no one ever tells you where to go.
To track a buck, you need room to follow him, an open gun season, and of course, snow on the ground. But perhaps you live in a state where public land is rare, or maybe the tracts you hunt just aren't big enough to see a track through to the end. Or you might hail from a place that just doesn't see much snow. If that's your reality, here are some places to put on your list.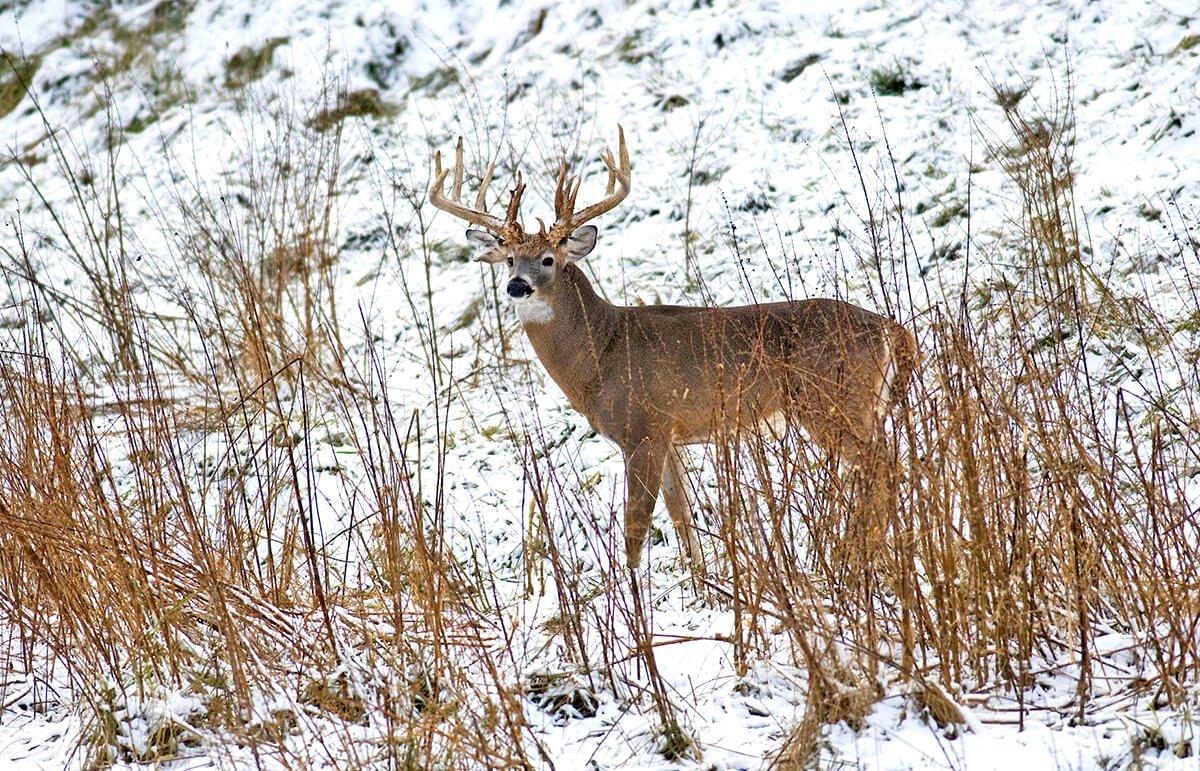 Northern Minnesota
Minnesota's got it all: A three-week long rifle season in November, a good chance for tracking snow, and unmatched room to roam.
This prime destination for snow tracking offers more than 4.5 million acres between the Chippewa National Forest (660,000-plus acres) and the Superior National Forest (3.9 million acres). If you're hunting the Chippewa National Forest, consider Grand Rapids as a potential home base. If you have the fortitude, trek into the Boundary Waters Canoe Area Wilderness or hunt the edges for a wilderness experience as real as any in the Lower 48.
Minnesota is also home to more than 3 million acres of state forest land, too. Several big areas, such as the 568,000-acre Koochiching State Forest, offer plenty of elbow room. But some of the smaller and lesser-known tracts offer enough country, and good deer numbers, too. Wealthwood State Forest comprises 15,000 lowland acres between Mille Lacs Lake and Aitkin. Smoky Hills State Forest offers 24,000 hilly acres between Detroit Lakes and Park Rapids. And Lyons State Forest boasts 14,000 acres of mostly hardwood and lowland in Wadena County.
(Don't Miss: The Best Shot Placement on Deer)
Michigan U.P.
Like Minnesota, Michigan's Upper Peninsula offers a November rifle season (traditionally Nov. 15-30) and the expanses of untrammeled public land a tracker needs to follow a buck. Meanwhile, Lake Superior and Lake Michigan introduce plenty of moisture to the region's cold air, resulting in plenty of good tracking snow. After northern Minnesota, I'd rank the U.P. as your second-best bet for whitetail tracking.
Start with the Hiawatha National Forest (894,000 acres) and Ottawa National Forest (993,000 acres), though there are almost countless miles to walk in the U.P.'s state forests too. With a 440,000-acre complex of clear-cut and second-growth timber in mostly Baraga and Dickinson counties, Copper County State Forest is a good bet. So is the Escanaba River State Forest, which offers 420,000 acres of actively logged country in Alger, Marquette, Delta, and Menominee counties. And Lake Superior State Forest has 1 million acres of prime ground in Luce County.
(Are they chasing? Stay up to date with Realtree's Rut Report)
Maine's Big Woods
Big woods, big deer, and the usual presence of snow during the November deer season — which runs most of the month here — make Maine a great place to work a buck.
Maine has more than a million acres of public country to hunt. Many of those acres managed are under Maine's extensive Public Lands Program, which includes wildlife management areas from 500 acres to 43,000 acres. Look to Aroostook and Penobscot counties first, then consider Piscataquis and Somerset counties.
Maine is also a great place to access commercial timber company lands, with more than 3 million acres open to public hunting in the state.
(Don't Miss: 21 Riflescope Tips for Hunters)
Western Montana
If you can draw a permit, there are plenty of whitetails in Montana, as well as ample room to roam during the rifle season, which starts in late October and runs through most of November. Snow is a decent bet, especially in the wetter western part of the state. That's where you should focus.
Good public land can be found everywhere in Montana, but for whitetails, look to the Bitterroot, Beaverhead, and Lolo National Forests. Stick to the river bottoms, valleys, and foothills.
Don't overlook abundant Bureau of Land Management tracts in the central and eastern parts of the state, either. The trick? If you're only targeting whitetails, work riparian corridors. Bring good glass and prepare for long shots. The hunt is as much spotting-and-stalking as it is tracking here. A pair of fresh slots in the snow can be the start of a great adventure in the lonely high prairie.
(Check Out: 31 Best Tips for Hunting the Rut)
South Dakota's Black Hills
A hunter who's willing to walk the terrain and get away from roads can find seclusion in South Dakota's Black Hills, where the region's deer season spans the month of November (apply for a license in the spring). Whitetails are abundant here, and the country is beyond beautiful. Because of their elevation, the Black Hills usually get a lot of fresh tracking snow too.
Between U.S. Forest Service lands and the Custer National Forest, South Dakota has more than 2.3 million public acres, about 80 percent of which are open to hunting. The towns of Custer, Keystone, Hill City, and Deadwood all make home bases, but there are more than 30 U.S. Forest Service campgrounds in the Black Hills. Check to see which are still open before you go. You can also set up remote campsites in most places.
Black Hills bucks aren't usually huge, but there are nice ones to be had (especially the farther north you go). And even the forested country is open enough that you're not hunting impassable thickets. Get on a track, follow it, and look ahead. Start your search on ridgelines, saddles, benches, and creek bottoms. Consider coming later in November when most of the residents are done hunting, and you'll have much more country to yourself.
(Don't Miss: The Ultimate Late-Season Trail Camera Plan)