A Look At a Day in the Life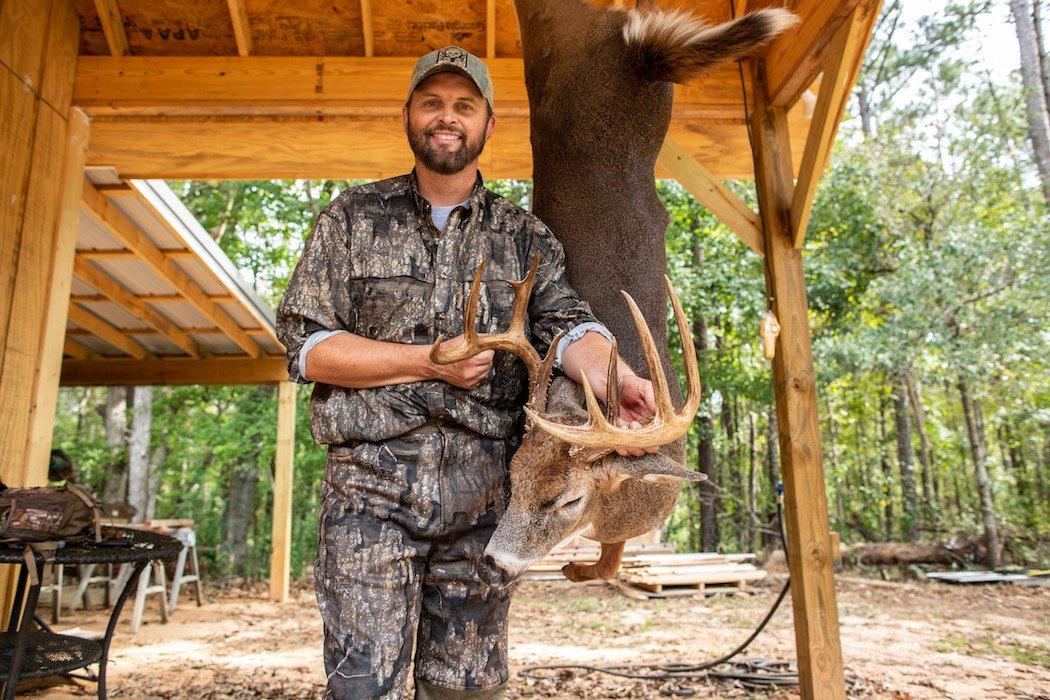 Hunting with Team Realtree seems like the job that every outdoorsman would love to have. You'd get to hunt some of the greatest places in the world, take trophy game and live the big life as a professional hunter. After reading this up-front interview with Michael Waddell, you might just find that a day in life of those hunting boots isn't as easy as he makes it look.
First off, how on earth you landed a job with Bill Jordan's Team Realtree?
MW: Hunting has always been a big part of my life, so landing a job with Realtree was like a dream come true for me. I had won several turkey-calling competitions, and some of Realtree's pro staffers had mentioned my name to Bill Jordan. I finally met Bill at a turkey-calling contest in 1994 in Perry, Georgia. I won that contest. After we met, Bill ended up putting me on Realtree's hunting advisory staff. That spring, Realtree invited me to guide an outdoor writer's hunt. That experience went well, and I started running a camera during other Realtree hunts. For the first year and a half or two years, I worked behind the scenes. Then, because of my background with turkey-calling competitions, Bill allowed me to do a little turkey hunting and to give calling tips on the videos. As time progressed, I spent more and more time in front of the camera until I became a constant on the Monster Bucks videos. Realtree was growing a lot in its production company at the time and needed someone who could travel, run a camera and learn to edit. I fit that bill. Hunting on camera comes very natural to me because I grew up hunting and fishing. I feel like I'm no different than the guys who watch the videos.
Run us through your typical day during the hunting season.
MW: When hunting, we typically get up before daylight. And, when filming, the camera guys start documenting every event first-thing that morning. We get our gear together and grab a quick breakfast -- usually cereal. Depending on the situation and the time of year, we'll spend three to five hours in the stand. Then we'll come back to camp, grab a lunch, hang stands and figure out what strategy we want to use next. Then, we'll get back in the deer stand and try to make something happen. At night, we'll come in and eat dinner, make a phone call or two and hit the sack. During the rut, when the deer are really moving, we may stay in the stand all day long. These days are a lot of fun, but very exhausting. I follow this schedule from the end of August through the beginning of January. We are totally dedicated during this time to filming TV shows and trying to take game. We fight a constant battle.
How do you occupy your time while traveling by car or by plane?
MW: We spend a lot of time brainstorming and coming up with ideas for the videos. Sometimes, I'll use that time to call friends and family or to catch up on business calls. We also just goof off and tell jokes while traveling to our hunting locations. We've really gotten to know each other during our time on the road.
What's your favorite part of the job?
MW: The neatest part of my job is making a living participating in the sport I love. I have the opportunity to represent other people who share the same passion as I do. I get to let everyone in the world know that I'm very proud to be a hunter. I'm not ashamed of my love for hunting at all. I'll walk through downtown New York or any big-city airport in my Realtree Camo to let the whole world know that I hunt.
Do you travel on holidays?
MW: I have to miss a lot of holidays, which can really be tough on my family. But, I always make sure I'm home several days for Christmas. I won't miss Christmas because it's a very special time for me. And actually, for the last several years, I've been home on Thanksgiving as well.
Outside of hunting and/or fishing, what are your favorite pastimes?
MW: I love all types of sports. I especially like to play softball. Realtree has a tournament team that we all have a lot of fun playing on. We enjoy getting outside and getting some exercise. I also enjoy playing the guitar. I like all types of music, but I especially love Southern rock.
If you only could hunt one game species for the rest of your life, what would it be and why?
MW: I love the camaraderie and the strategy involved in hunting turkeys. I also enjoy learning about the language of the wild turkey. Not only does a hunter have to learn to talk turkey, but he also has to become a good hunter and woodsman in order to take these smart birds. You have to have a lot of knowledge about turkeys in order to plan a strategy for hunting them. I also enjoy taking other folks turkey hunting because turkey season occurs during a pleasant and pretty time of the year. We can have a lot of fun talking and goofing off together, then we can get serious and do what it takes to bag a nice gobbler.
If you weren't in the outdoor industry, what would you probably be doing for a living?
MW: I'd probably be trying to figure out how to step up to plate and run my dad's construction business. My father has a successful contracting business in the small town of Manchester, Georgia. While growing up, I used to work with my Dad during the summers. So that type of a career obviously crossed my mind. I actually got a degree in heat and air and worked a couple of years in that business. Working so hard for my dad during those years makes me really appreciate the job I have now.
What's your earliest hunting memory from your childhood?
MW: I'll never forget the first time my dad took me deer hunting. I killed a buck that won two local deer contests. It had a big gnarly rack and weighed more than 200 pounds field dressed. With the gift certificates that I won from the local sporting goods stores, I bought my dad a gun and some new camouflage. That was a really special memory for me. I also remember how my dad would buy me a pair of insulated hunting boots the day before opening day of deer season. We'd sit around that night in the living room and clean our guns and plan our hunt. The whole atmosphere took on a Christmas-like atmosphere for me.
Don't Miss: 20 Deer Hunting Lies Your Granddaddy Told You
Editor's Note: This was originally published on August 21, 2003.
Are you a deer hunter wanting to learn how to accomplish your goals? Check out our stories, videos and hard-hitting how-to's on deer hunting.