Iowa bowhunter tags a 211-inch, permission-ground giant
Rack Report Details
Buck:
211 6/8 inches (green gross score)
Time of Year:
Oct. 28, 2020
Place:
Iowa
Weapon:
Elite bow Bowhunting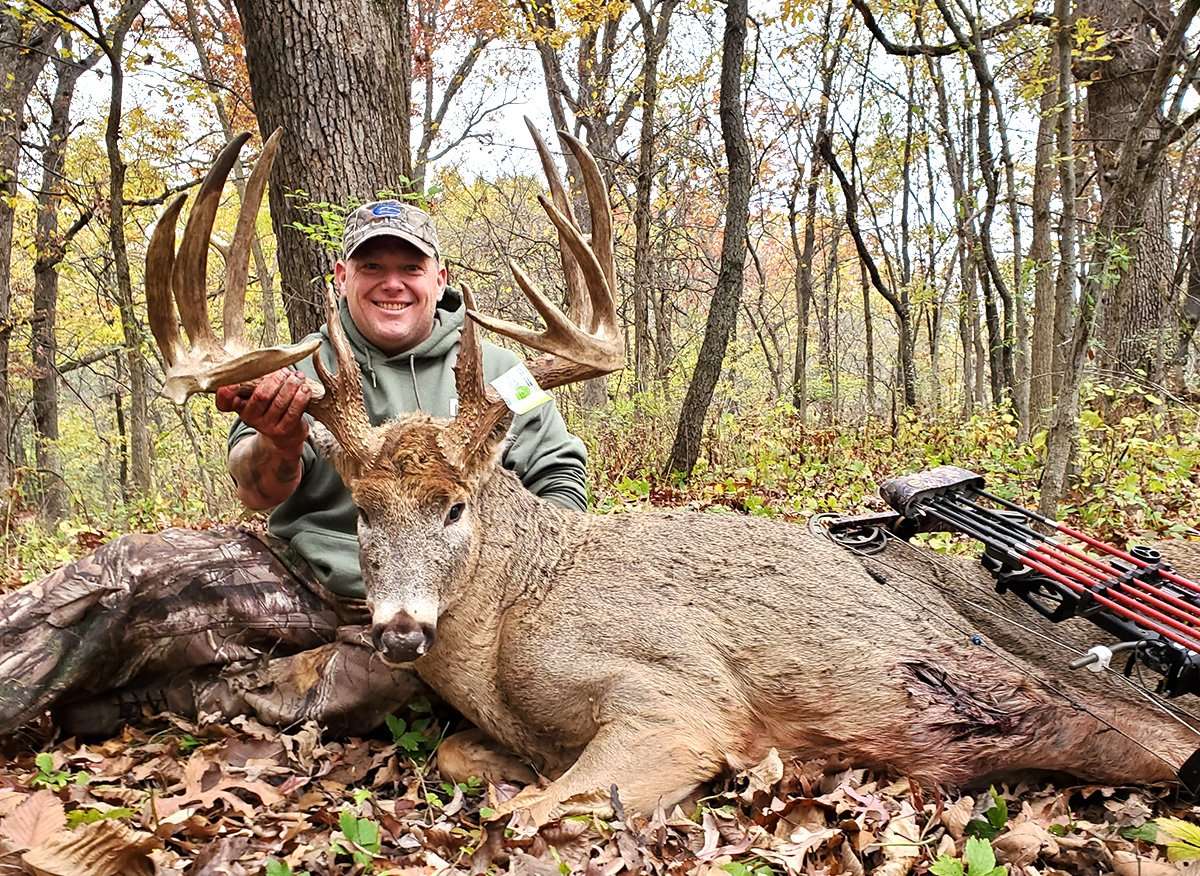 It used to be easy to score a hunting spot by knocking on a door, but most hunters today know that's fading away in the age of hunting land ownership and leasing.
But sometimes, you can still knock on a door and get permission. That's what Iowa deer hunter Mark Luster did to gain access to a property in 2019 that he still hunts today. It's a farm filled with rolling hills, fields, and drainages, and a true giant buck, nicknamed Zeus, called it home. Bucks that breach the Boone & Crockett mark are scarce; those that surpass the coveted 200-inch threshold, even rarer — and those that break it as a typical are virtual unicorns. Luster knew just how special an opportunity it was to hunt this deer.
And Luster has two years of history with him. In his words, this buck was consuming. He pored over trail-camera photos and in-the-field sightings, and obsessed over a misplaced shot. Last year, he released an arrow at the deer that clipped a honeysuckle vine, and things went awry. This season, he even had a 35-yard encounter during muzzleloader season. The buck just didn't offer an ethical shot. Luster has been bowhunting since he was 12. He's taken some great bucks since then but never one of this caliber. He hoped to cross paths again with this 6 1/2-year-old stud.
Bucks that breach the Boone & Crockett mark are scarce; those that surpass the coveted 200-inch threshold, even rarer — and those that break it as a typical are virtual unicorns.
On Oct. 28, he slowly eased to the treestand along a low-impact entry route. The world seemed cold and still in the quiet darkness of the early pre-dawn. Once he'd ascended and settled in, he hung up his bow and waited for the show to start.
As the sun creeped toward the horizon, light bathed the landscape around him. To the west, down in a valley, two creeks merged. There, three ridges tapered off and converged, creating a phenomenal pinch point. To the east, a CRP field sprawled for several acres. To the north, big timber continued for quite a ways. And to the south, fingers of cornfields snaked in and out of thick, nasty cover.
With the chessboard set, and all of the pieces in place, Luster's anxiety went through the roof. Mid-30s temperatures and a consistent west-southwest wind really spurred deer to move, and it didn't take long to see some action.
Shortly after daybreak, two small bucks cruised through in search of does. Several minutes passed, and then a doe and fawn slowly pushed through cover, crunching up acorns as they went. Less than five minutes after they made it out of sight, lightning struck, and Zeus' crown materialized in the timber.
He was walking the ridge between the two creeks, Luster says. Deer typically drop off of that point and cross to my side and continue going northwest. He did not, and turned to travel more westerly through the timber. So, I rattled the horns at him. He came running full speed.
Luster stopped the buck at 25 yards, and took the quartering-away shot. Unfortunately, the deer took a step just as the arrow released, and the broadhead hit the back of the vitals. The buck ran about 100 yards before making it out of sight.
Thinking the broadhead had hit straight liver, Luster chose to give the deer some time. With the cold temperatures, he wasn't worried about meat spoilage.
The next morning, they took up the blood trail. Luster's son, Hunter, their friend, Ryan Egan, and another gentleman who has permission to hunt the property began searching for sign. They recovered the deer in short order.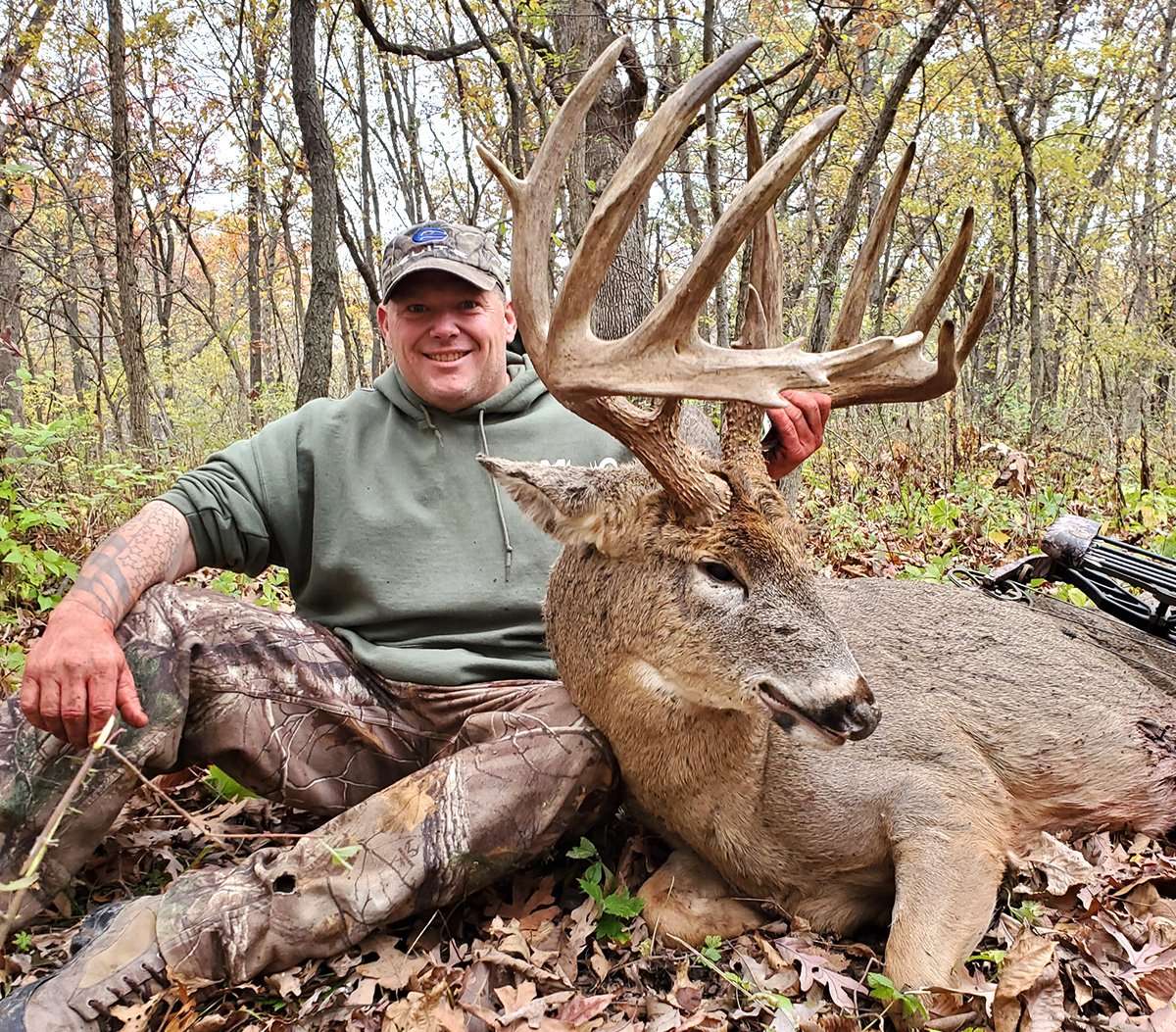 He's the largest typical that I have ever had the privilege to hunt, or likely ever will, Luster says. I feel very fortunate. I had posted on Facebook a few trail-cam pics of the deer an hour prior to shooting him. So, when I commented that I got him, my phone went crazy.
He attributes his success to placing stands in pinch points, and also hunting spots with a just-off wind. This gave the buck a slight advantage, but the wind was good enough that Luster's scent cone drifted just off to the side of the approaching deer. Fortunately, it all worked out, and he tagged the buck of his dreams.
It's not often that one thinks they shot a 190-inch typical, and it actually grows once you put your hands on him, Luster says. I was speechless. It wasn't farmed with thousands of private acres. It was a permission piece seeing a fair amount of outside pressure. To finish the job — after shooting and losing him the year before — was a flood of emotions that I wasn't prepared for. Hunters across America dream of seeing a 200, let alone killing one. To have a chance at a 200-plus-inch typical is so far out of reach that we don't even dream that big.
But it wasn't beyond reach this time, and Luster has a 211-inch Iowa giant to show for it.
(Like reading big-buck stories? Check out The Story of the Tree Buck.)
Watch all the latest video episodes