Special Delivery: Cierra Arrington's 194-Inch Ohio Crossbow Giant
Rack Report Details
Buck:
194 7/8
Time of Year:
November 9, 2020
Place:
Champain County, Ohio
Weapon:
Centerpoint Sniper Crossbow, Montec G5 Broadheads
Over the course of a season, you'll hear a long list of reasons why a hunter got into his or her stand a little later than planned. Having a scheduled checkup with the OB-GYN run late isn't one you hear very often.
But that's exactly the situation Cierra Arrington found herself in on Nov. 9 of this year. Arrington, five months pregnant with twin boys, debated even going to hunt. My doctor's appointment was delayed, so I was already later than I wanted to be. Between that and the fact that my husband had just killed his target buck the evening before from the stand I was planning to hunt, I just didn't know if it would be even worth it to go, she says.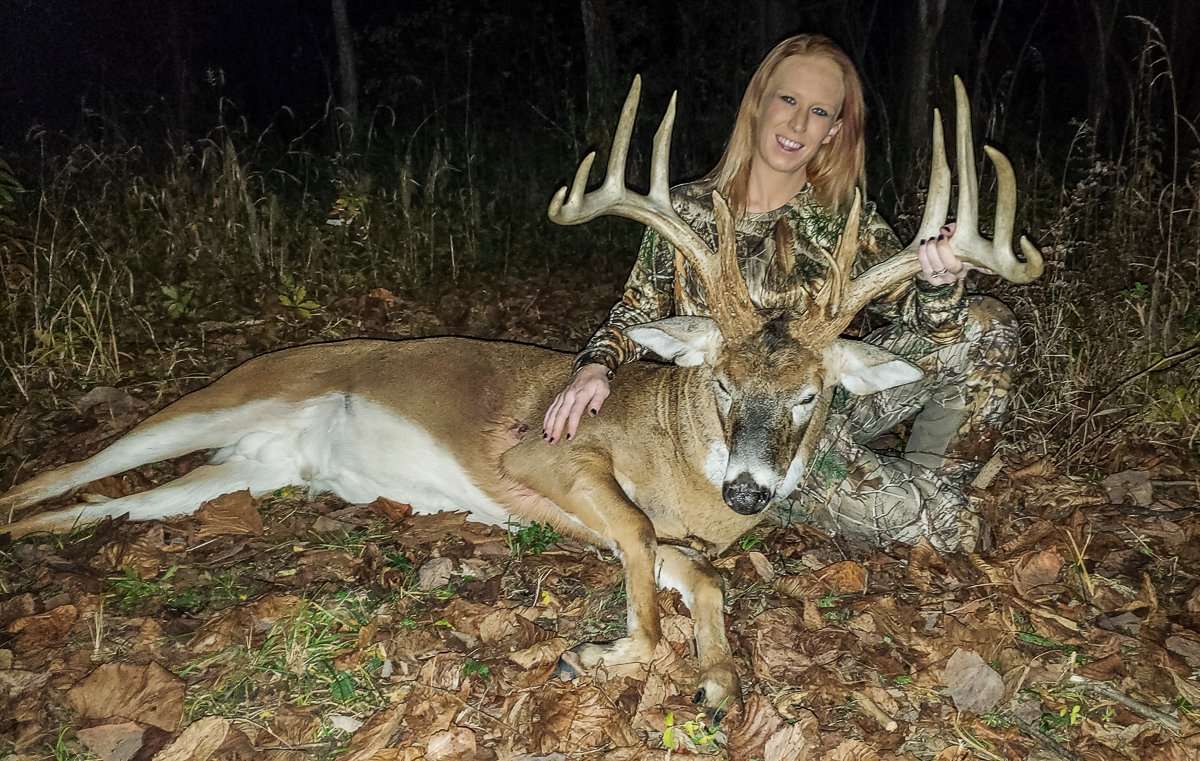 Cierra made the decision to go. After quickly changing clothes, she headed to the stand and climbed in. At 21 weeks pregnant with twins, I was already having trouble climbing into my stand, she says. I knew I wouldn't get that many more chances.
It turned out to be a good choice.
The Beginning
Arrington's quest to kill the big buck they called Gauge began three years earlier when her family purchased a large tract of land to hunt on. Part of the land was in the Wetlands Preserve Program, and a lot of it was covered in thick cover, she says.
The family immediately started improving the land to make it more attractive to deer. We put in food plots, water holes, and cleared areas for trails and stand placement, she says. We also started running trail cameras. That first year we got a picture of the buck we started calling Gauge. I made the goal right then and there that he would be my first buck.
A Three-Year Chase
The improvements the family made to the land paid off. For three years, they got the big buck on trail cameras. While he was a regular in the area, the buck was completely nocturnal. I hunted and ran cameras for two straight years and never saw the buck or got a photo of him in the daylight. Not even late in the season, Arrington says.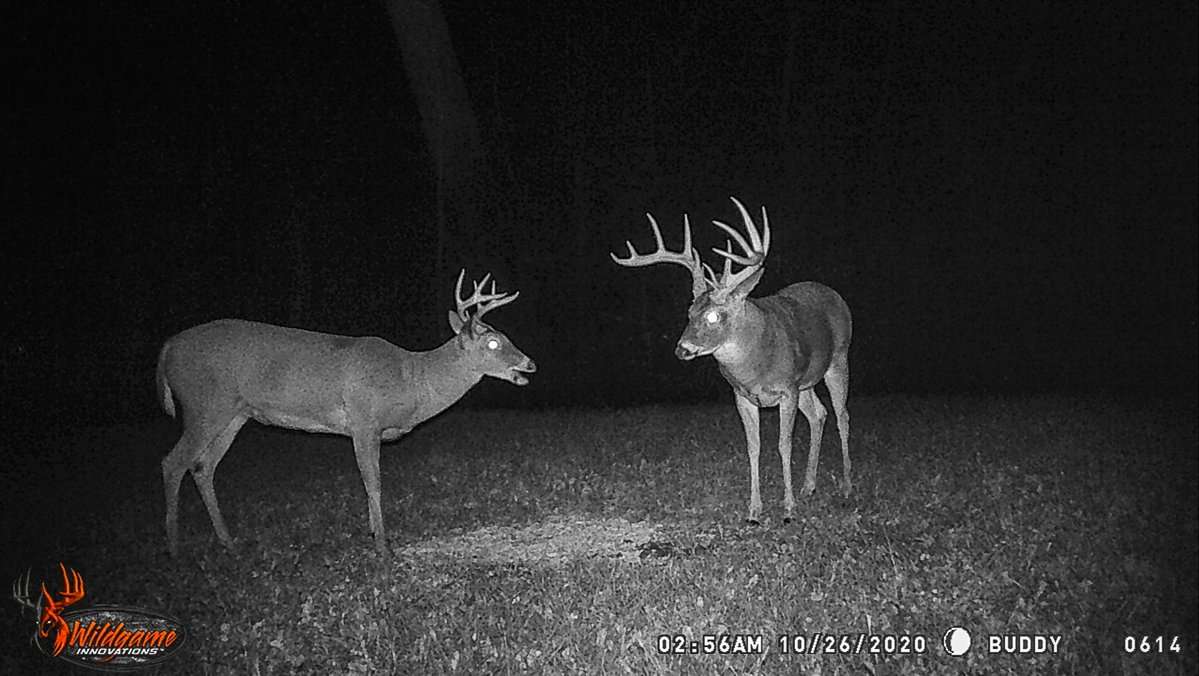 She continued hunting for the buck, passing on numerous good deer, much to the chagrin of her family and hunting partners. They all told me I'd never get a shot at the big deer, that I needed to quit thinking about him and kill a different buck for my first, she says.
After having been a camera regular the past two years, the big deer disappeared going into this season. I was heartbroken. I was certain he was gone for good. Then, on Oct. 12, there he was, again at night. From that point on, the buck was again on a regular nighttime pattern around the property.
Early in the season, Cierra and her husband, Austin, hung a stand near a section of the property that they had never hunted. The couple waited to hunt the new area until the rut was well in swing and conditions were perfect.
Austin decided to hunt the new stand on Nov. 8. His plan worked and he ended up killing the buck he had been chasing all season. Although he had walked through the area quite a bit while tracking and recovering his buck, he knew the spot was a good one and encouraged Cierra to hunt it the next evening.
The Hunt
Even though she was running late, Cierra made the decision to skirt the edge of the thick cover and come in from behind the stand through a creek draw. After climbing into the stand, she settled in to wait. It was pretty slow. I wasn't seeing any deer movement and there were a ton of squirrels around me, Arrington says.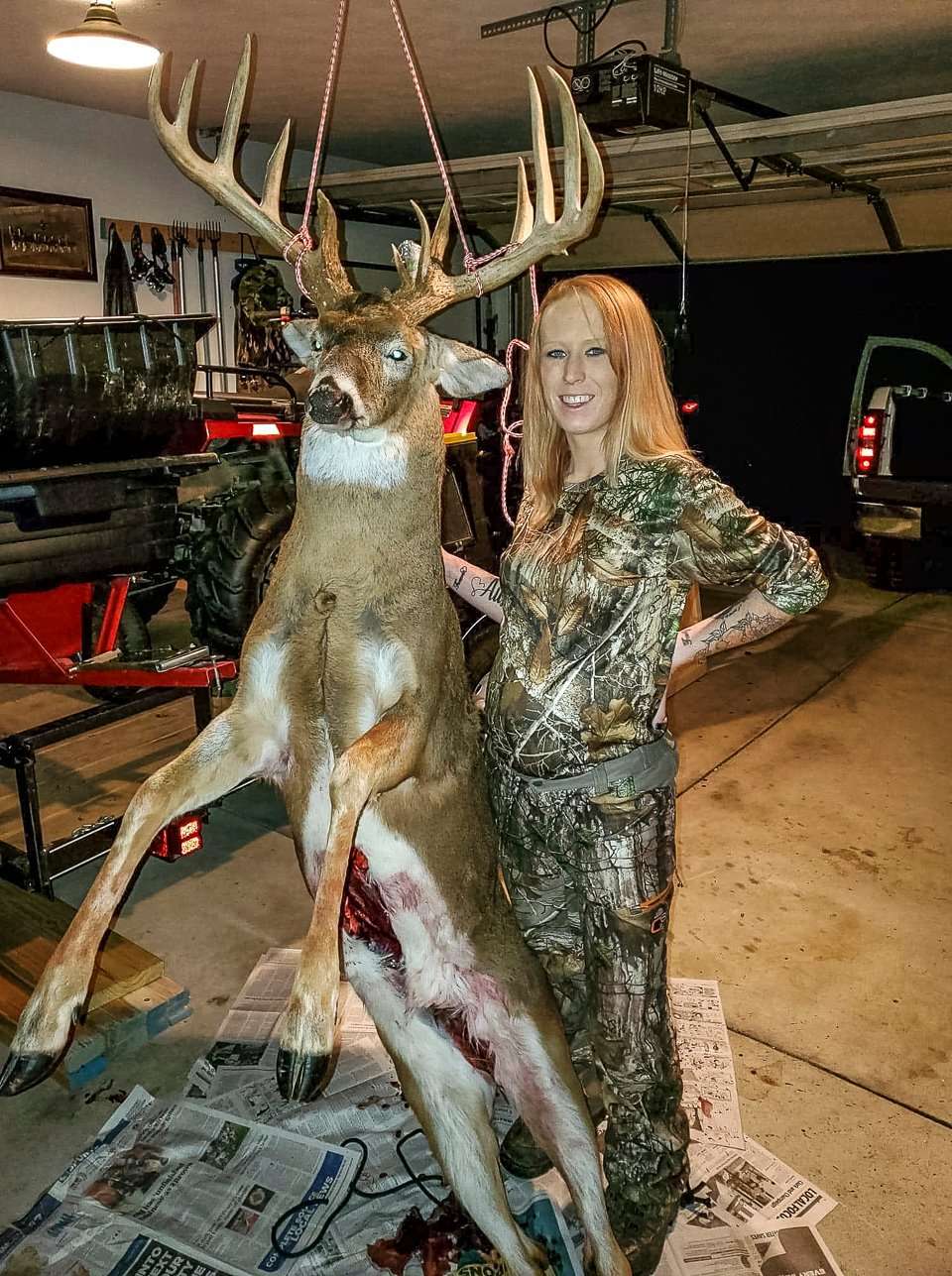 With 45 minutes of shooting light remaining, Cierra decided to try rattling and grunting to call in any nearby bucks. Things again got quiet. With 10 minutes of shooting light remaining, a doe and fawn emerged from the thick cover.
By this time, I'd been in the woods 30 to 40 times and I was ready to shoot a deer. I decided to shoot the doe and raised my crossbow and waited for her to give me a good shot, Arrington says. Then she heard a thick twig snap.
I raised my head and there he was, standing in the edge of the thick cover just 50 yards away. I could only see his rack at first, but I knew immediately that it was Gauge. Cierra just needed the buck to clear the cover and give her a good shot. With shooting light fading fast, she was worried that she wouldn't get a clear shot in range before the end of legal light.
(Don't Miss: Giant Typical Buck is One of 2020's Biggest Whitetails)
The buck started walking. He was on the exact trail the doe had just walked down. When he got to 40 yards, he stopped with his body behind a tree and looked right at me. I knew I was busted. I was breathing so hard that I just knew he could see me, she says.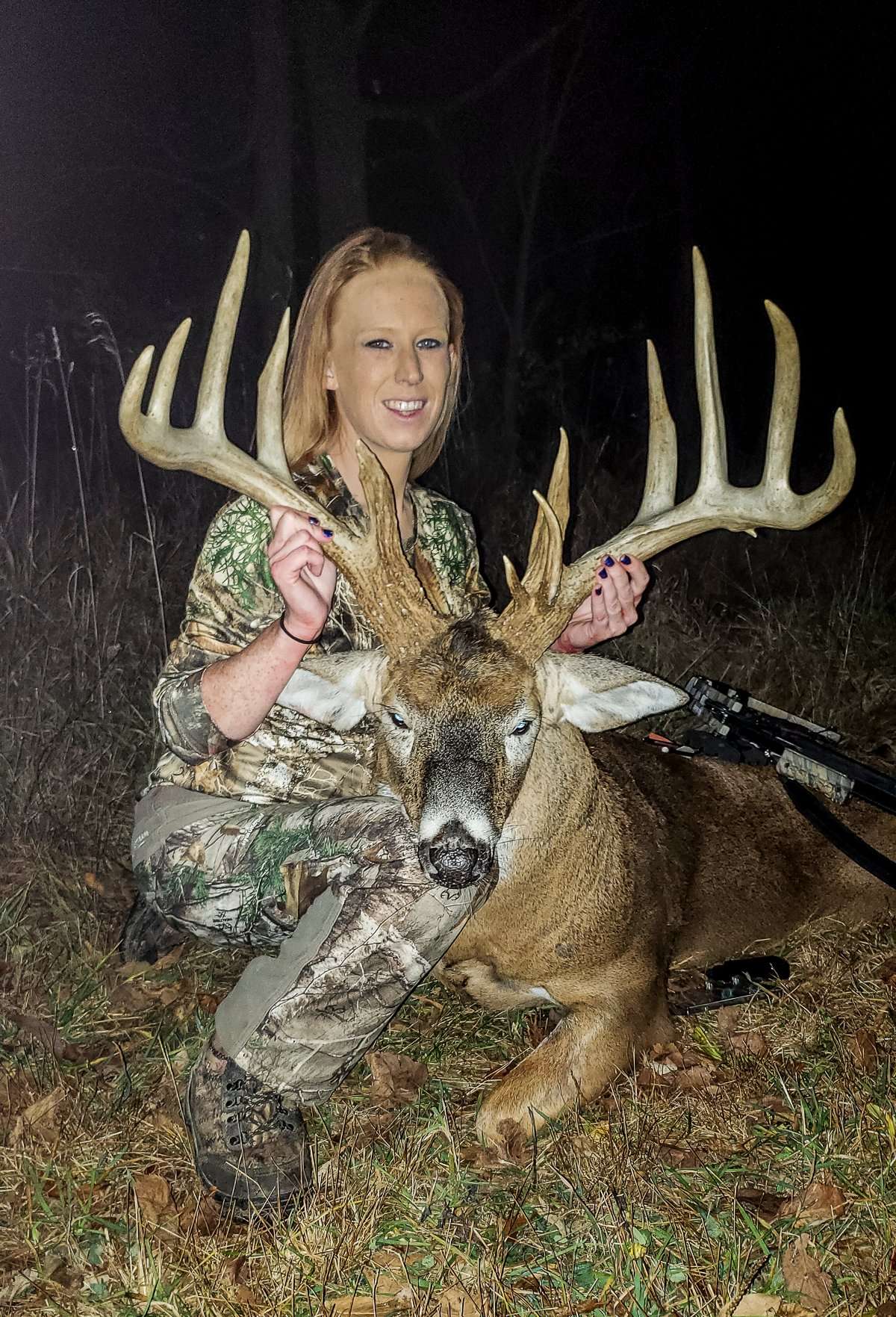 After what seemed like an eternity, the buck continued down the trail. With just minutes to spare, he stopped, broadside, at 31 yards. I was shaking, I was breathing hard. I had to make myself calm down and take a deep breath. Arrington leveled her crossbow and squeezed the trigger.
The Kill
The shot was true. Cierra watched her broadhead hit just behind the buck's shoulder. With a huge mule kick, the buck bolted back into the thick cover. She heard him stop, then crash to the ground.
I called my husband to tell him what had just happened. I was crying, I was overwhelmed with emotion. I told him I had just killed Gauge and he didn't believe me, Arrington says. He kept asking over and over if I was sure.
Soon, Austin and the couple's three young children showed up to help recover the buck. My kids were so excited. They had been there for every step of the process. It was so satisfying to see their joy at my getting the big deer and know the work we had all put into the property had paid off. The whole thing was just amazing, she says.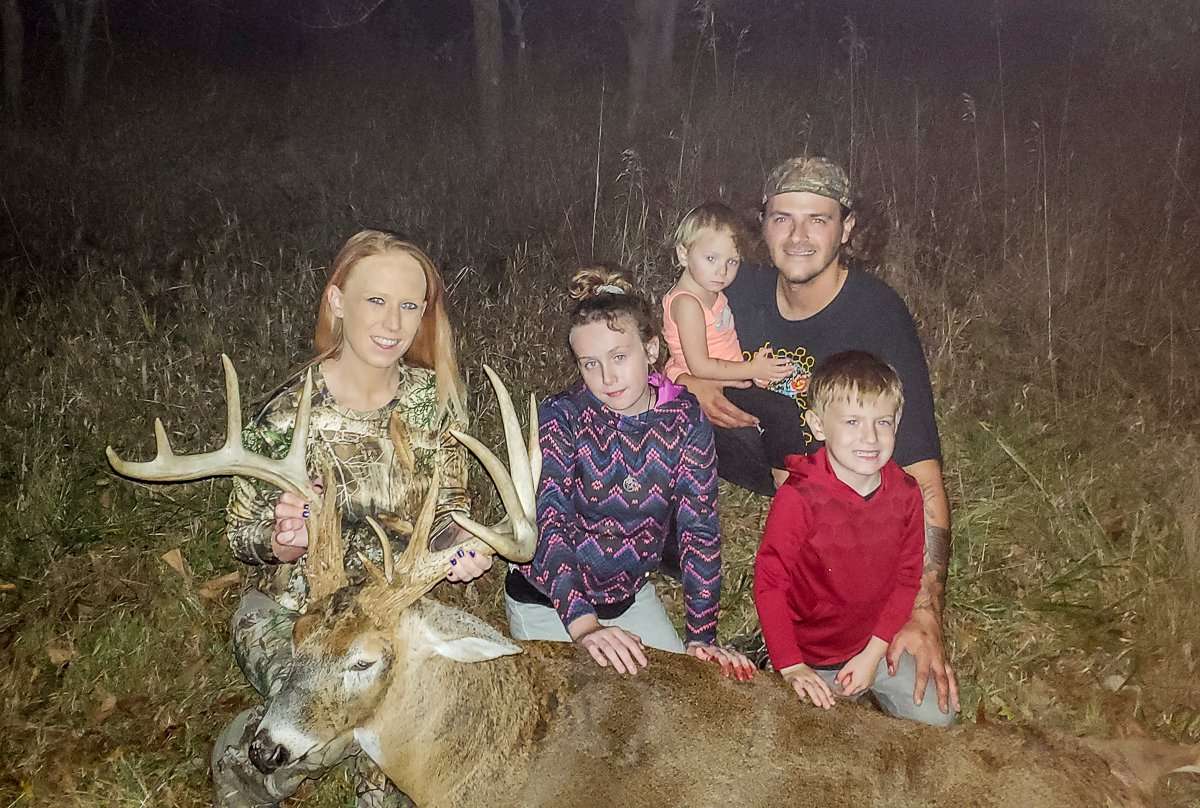 Cierra's buck featured 20 scorable points with an inside spread of 24 inches and matching Coke can bases of 7 inches and 7 3/8 inches respectively. They sent one of the buck's teeth to a lab for aging, but her taxidermist estimated the deer's age at 8 to 9 years old based on tooth wear.
Watch all the latest video episodes