Puddle duck numbers improved; goose outlook mixed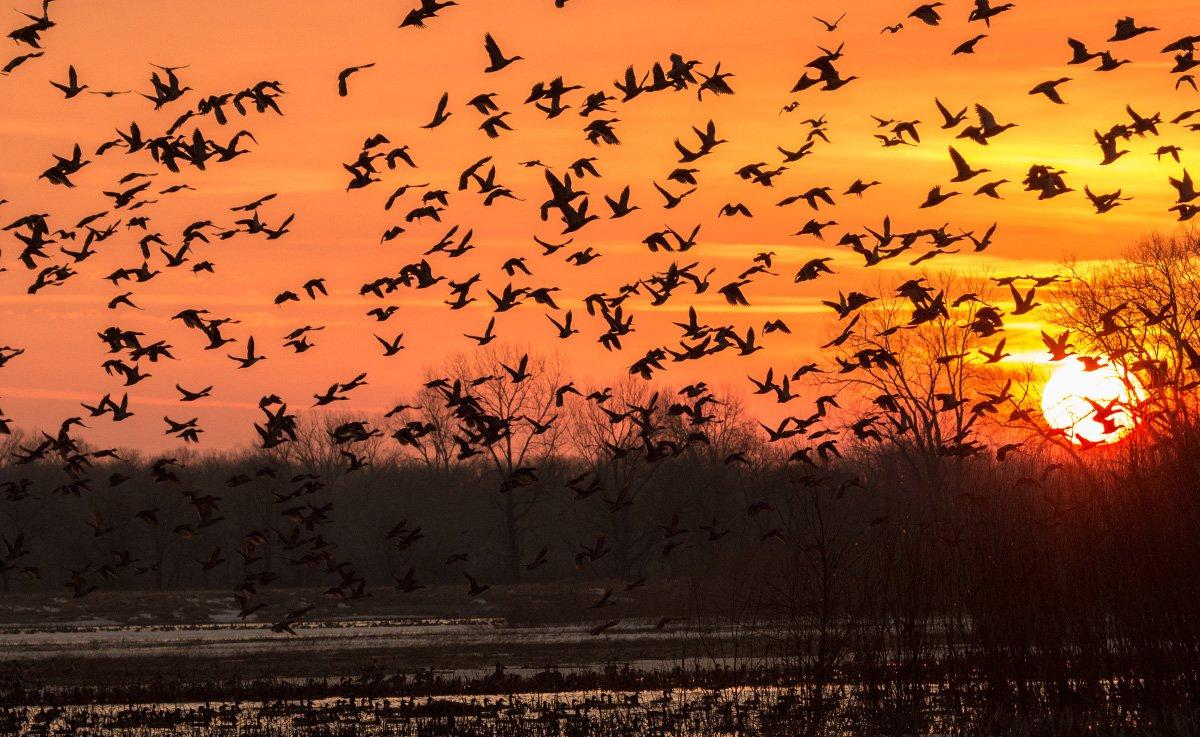 Duck hunters should anticipate a good 2020-'21 season, according to Delta Waterfowl.
The group recently said average to above average breeding conditions in the prairie pothole region, combined with a stable population of breeding ducks, will likely result in a strong Fall 2020 flight. The organization forecast improved flights of dabbling ducks from 2019, especially mallards, gadwalls and blue-winged teal. That's good news, because a large fall flight — one with lots of naive juvenile ducks in particular — is essential to a successful waterfowl season.
That's especially true in the southern United States, Frank Rohwer, president of Delta Waterfowl, said in a press release. In years when duck production is poor, Texas, Louisiana and other states experience years like the dismal 2018-2019 season. I don't think that will be the case this fall. Conditions were good in key regions for breeding ducks, and production was strong overall. If we get a few timely cold fronts, it could be a truly memorable season.
Delta delivered its analysis despite the cancellation of the federal 2020 Waterfowl Breeding Population and Habitat Survey, a critical annual barometer of the fall flight. However, the North Dakota Game and Fish Department conducted a 2020 survey and estimated a statewide breeding population of 4 million ducks, an 18% increase over 2019. The North Dakota survey gives biologists a solid picture of breeding duck numbers and wetland conditions in a critical portion of the prairie pothole region.
The Service's cancellation of the survey due to Covid-19 means we don't have estimates of breeding duck populations or pond (wetland) counts this year, Rohwer said. However, a far more important metric for predicting a quality hunting season is duck production — that's the overriding factor in whether we'll see a good fall flight.
Based on long-term data that indicates most duck populations are well above average, and considering breeding habitat conditions in critical regions this spring, Delta concluded that most duck species experienced good to great production. Spring habitat conditions were excellent in the Dakotas, very good in Manitoba, good in Alberta and poor in Saskatchewan.
Duck production among species probably varied based on regional preferences.
Delta said mallards likely took advantage of wet conditions in the Dakotas and prairie Manitoba, resulting in plenty of greenheads for the Central and Mississippi flyways. The North Dakota survey reflected that, estimating 872,982 breeding mallards, the 18th-highest index recorded.
The Dakota prairies are the core breeding range of blue-winged teal. Bluewings increased 58% in the North Dakota survey, which spells good news for early teal seasons.
Delta anticipated an average fall flight of gadwalls. About 50% of the population nests in prairie Saskatchewan, where conditions suffered from low precipitation, but the other half settles in the Dakotas. In the North Dakota survey, breeding gadwalls climbed 6% to 440,379 birds. Wigeon are believed to have had an average nesting season, given conditions in their preferred prairie Canada breeding grounds.
The news was less favorable for pintails, as conditions were well below average in prairie Saskatchewan — the traditional heart of the pintail's breeding range. But more pintails have settled in the Dakotas in recent years in response to vastly better wetland conditions.
Delta forecast a decreased fall flight of canvasbacks because of poor nesting conditions in the Saskatchewan parklands. Redheads are more adaptable and found plenty of water in the Dakotas. Though redheads declined in the North Dakota survey by 12%, their breeding population estimate of 203,121 birds remained 72% higher than the long-term average.
Production of bluebills will likely differ between lessers and greaters. Lesser scaup are predicted to have had a decent nesting season in the U.S. and Canadian prairies, climbing almost 40% in the North Dakota survey to 275,190. In contrast, greater scaup have experienced poor success in northern Canada's boreal forest for many years, and 2020 was probably no exception.
Ring-necked ducks, a close relative of bluebills, are expected to have furthered their upward-trending population this spring.
Conditions in the Atlantic Flyway were good to very good in eastern Canada and average in the northeastern United States. Production of Eastern mallards — a population that's been declining — was likely strong, particularly in Canada. Black ducks, wood ducks and ring-necked ducks also found good nesting conditions.
In the Pacific Flyway, drought returned, most notably affecting California's sizable population of breeding mallards. Farther north, average conditions greeted nesting ducks in British Columbia, and Alaska was in excellent shape this spring. Together, the regions should provide good fall flights of mallards, pintails, wigeon and green-winged teal.
The goose hunting outlook was mixed. According to an article by Paul Wait of Delta Waterfowl, resident Canada goose populations are thriving, especially in the north-central United States.
North Dakota reported 335,000 nesting Canada geese, a 6% increase from 2019, and the third-highest breeding population on record. Further, production was strong. Wisconsin and South Dakota also reported good production.
Goose production reports from Canada were much less positive. In fact, light-goose hunters might face a season reminiscent of the 2018-'19 campaign, during which snow goose flocks contained almost all adult birds, Wait wrote. The 2020 breeding season for mid-continent snow geese was likely a bust, with few goslings produced. Weather conditions in the Eastern Arctic were poor for goose reproduction. The picture wasn't quite as bleak from Central Arctic regions. Still, below-average production is expected.
Click here for more Realtree waterfowl hunting content. And check us out on Facebook.