Seeing the world-record typical whitetail in person was on my bucket list. A few falls ago, I stopped in for a visit and made it happen
Every fall for 20 years I'd pass close to the farming town of Biggar, Saskatchewan, out in the middle of nowhere, on my drive north to hunt for a giant buck up in the province's provincial forest, which is really out in the middle of nowhere.
Riding along one November, I said to myself, What are you thinking? You know you want to meet Milo and see the world record, you have for years! I detoured over to Biggar, passed under the huge sign that read, Home to the Hanson Buck, and met the man himself in his workshop.
I walked in, saw the mount on the wall, and stopped in my tracks. I have seen thousands of whitetail bucks in my life, and my share of big racks, but the Hanson buck is otherworldly. Milo read my mind and said, Let me tell you the story of the great beast. It's been 20 years, but it still seems like yesterday to me.
The Deer Drive That Changed the World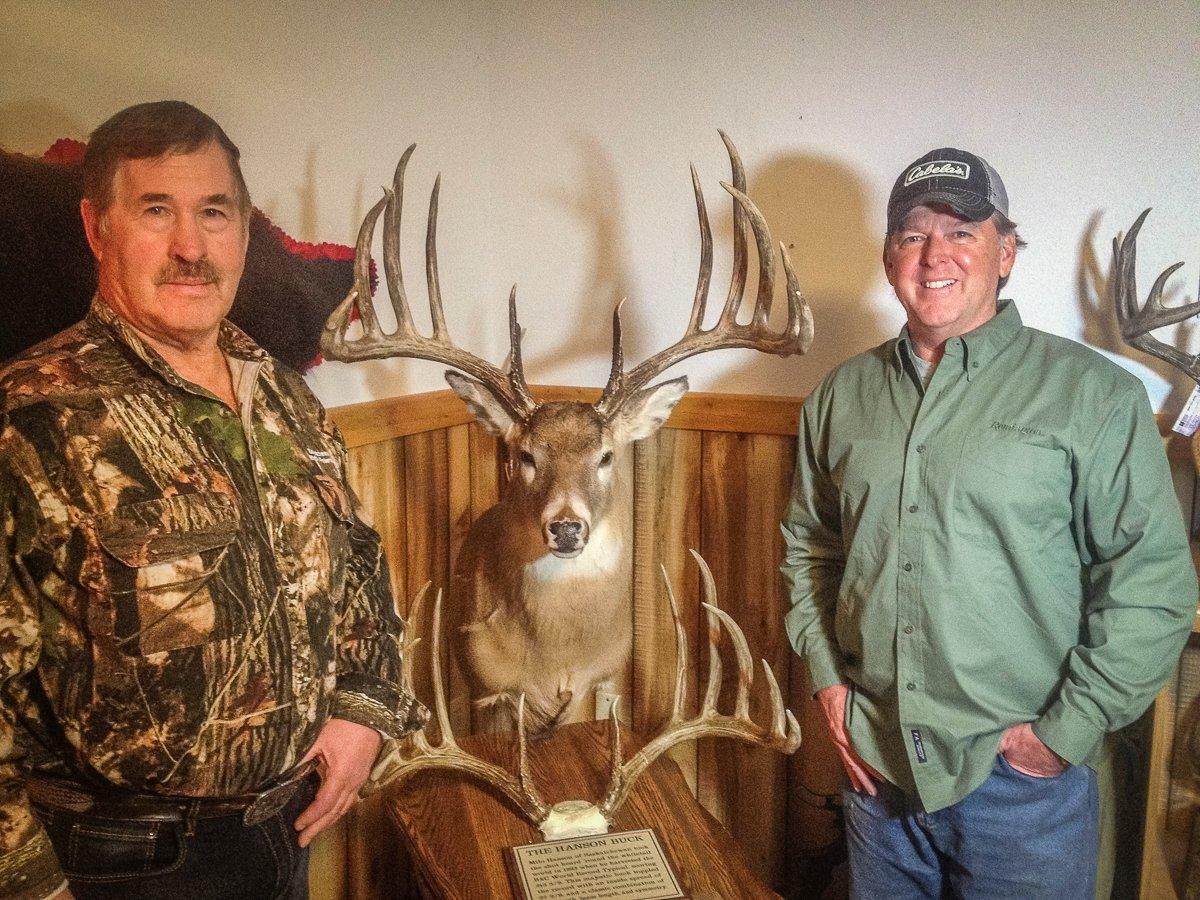 News of Milo Hanson's world-record whitetail broke in the winter of 1994 in various hunting magazines, and many longtime fans might remember Bill Jordan's iconic interview with Milo in Monster Bucks II (shown at top).
It was the deer season of 1993, and the buck had been spotted several times by locals that summer and early fall. He was known around town for sure, Milo said, and we knew hunters would be after him.
On the night of Nov. 22 it snowed, and the next morning a guy saw the immense buck run into patch of willows against the glistening blanket of white. He ran and got Milo and a few other hunters, and they devised a plan to push the deer out of the thick stuff.
With one guy pushing the bush and the others flanking and posting, the crew jumped the buck and Milo got a glimpse of him. He looked like an elk; to this day I still have that image burned in my mind, he said.
The buck got away, and they kept pushing for hours in the new snow. They jumped the deer again, and I was just lucky that he came out on my side, Milo recalled. He fired his .308 rifle, and the bullet hit the buck high in the back. He staggered and ran into a patch of brush. I ran up there as fast as I could and shot him again.
(Don't Miss: Has the .30-30 Really Killed the Most Deer?)
Milo walked up to the new world record and gasped. I just couldn't believe it, he said. His buddies were astounded, too. We knew it was big, but none of us could believe the size of it. We just stood there and stared. We didn't know what to say.
Milo, who hadn't smoked in years, started shaking like a leaf, and he asked a buddy for a cigarette. The only bad part about shooting the buck was that I smoked again for another five years, he said with a laugh.
They hauled the huge deer back to Milo's shop. It didn't take long for the word to get out. Cars and trucks came from all over and people lined up to see the buck, he said. A Saskatchewan wildlife official came out and told me, 'You know, that buck might be some kind of a record, you'd better lock it up.'
We started getting paranoid with all the people and news reports, so I hid the rack in barley piles and behind bales, kept moving it around. It was crazy.
—Milo Hanson
We are country folks, farmers, and we had never heard of such. We'd never locked our doors or the shop. But then we started getting paranoid with all the people and news reports, so I hid the rack in barley piles and behind bales, kept moving it around. It was crazy.
Some 60 days later, the rack was officially scored at 213 5/8, rocking the whitetail world as the world-record typical buck.
In the years that followed, outdoor shows and conventions in the U.S. paid for Milo to come down to their events in late winter, display a replica of the buck, and talk with hunters that came to gawk at the record rack.
My wife and I got to meet a lot of interesting people and see a lot of the U.S. that we never would have seen, and we really enjoyed that, Milo said.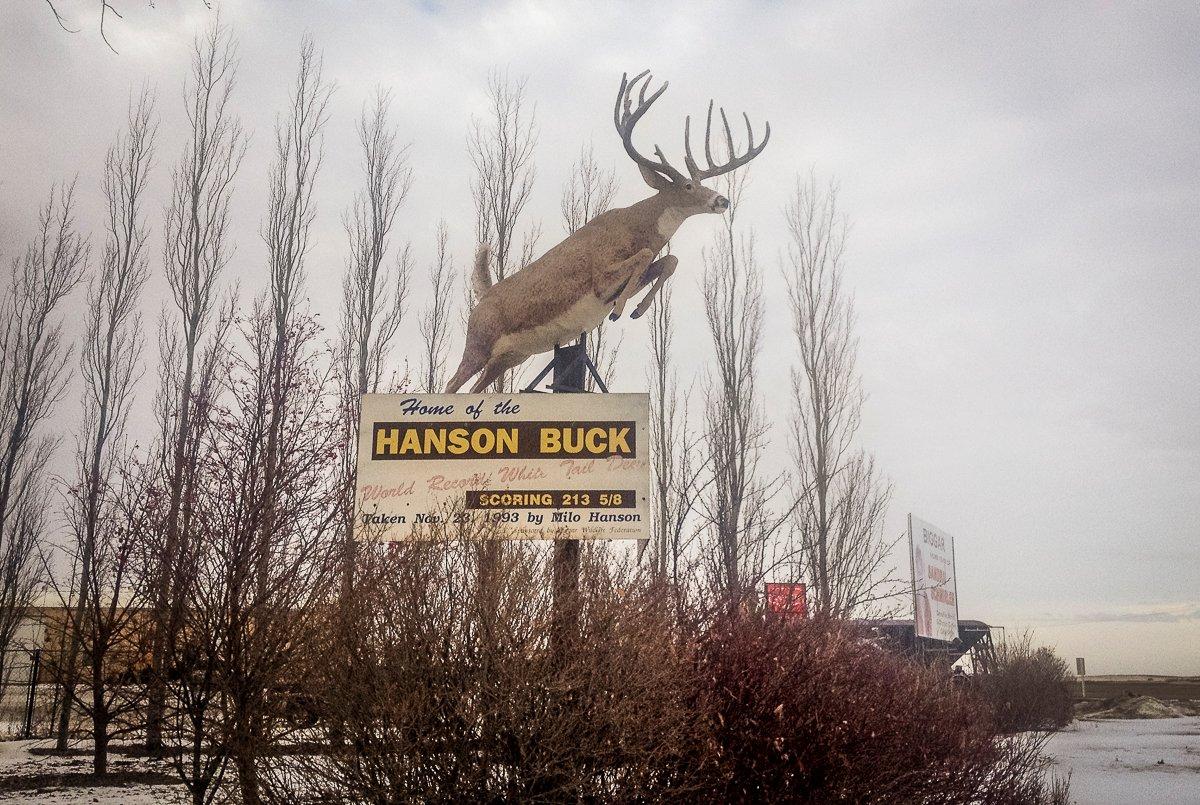 Over the years the hoopla of the Hanson buck has died down, but hardcore deer hunters like you and me are still interested. We've had people from all over the U.S. and Canada stop by like you did and want to see the buck, Milo said. Not so much now, but pretty regularly for years. Milo has always obliged, and still does. We enjoy it.
The congenial and soft-spoken man who shot the world-record buck paused in thought and gazed up at the stunning rack that hangs on his wall, like he has done a million times since that cold, snowy day in 1993. You know, I still can't believe it, he said. And I sure can't believe it's been more than two decades ago.
Author's note: When I saw the Hanson Buck and traced my hands along the great rack, three things struck me: The inside spread of 27 inches; the 27-inch main beams; and most of all, the amazing symmetry and height of the 14-point rack, with only 7 inches of deductions. Like I said, otherworldly. It will be 28 years this November since Milo Hanson shot the legendary beast, and it could well be another 28 years or more before a lucky hunter tops it.
(Don't Miss: How Long Should Deer Taxidermy Take?)