The good old days might have faded, but turkey hunters in this region should still find solid opportunities this spring.
This diverse region — with some states steeped in turkey hunting tradition and others relative up-and-comers — seems like a mixed bag for spring 2023.
Sure, many long-time hotspots have faded a bit from historic highs. And the region faces many challenges, such as increasing urbanization and habitat changes. But in many areas, increased turkey productivity has sparked optimism for this season and the future, and overall, bird populations remain solid.
Here's a state-by-state look at what Northeastern turkey hunters can expect in 2023.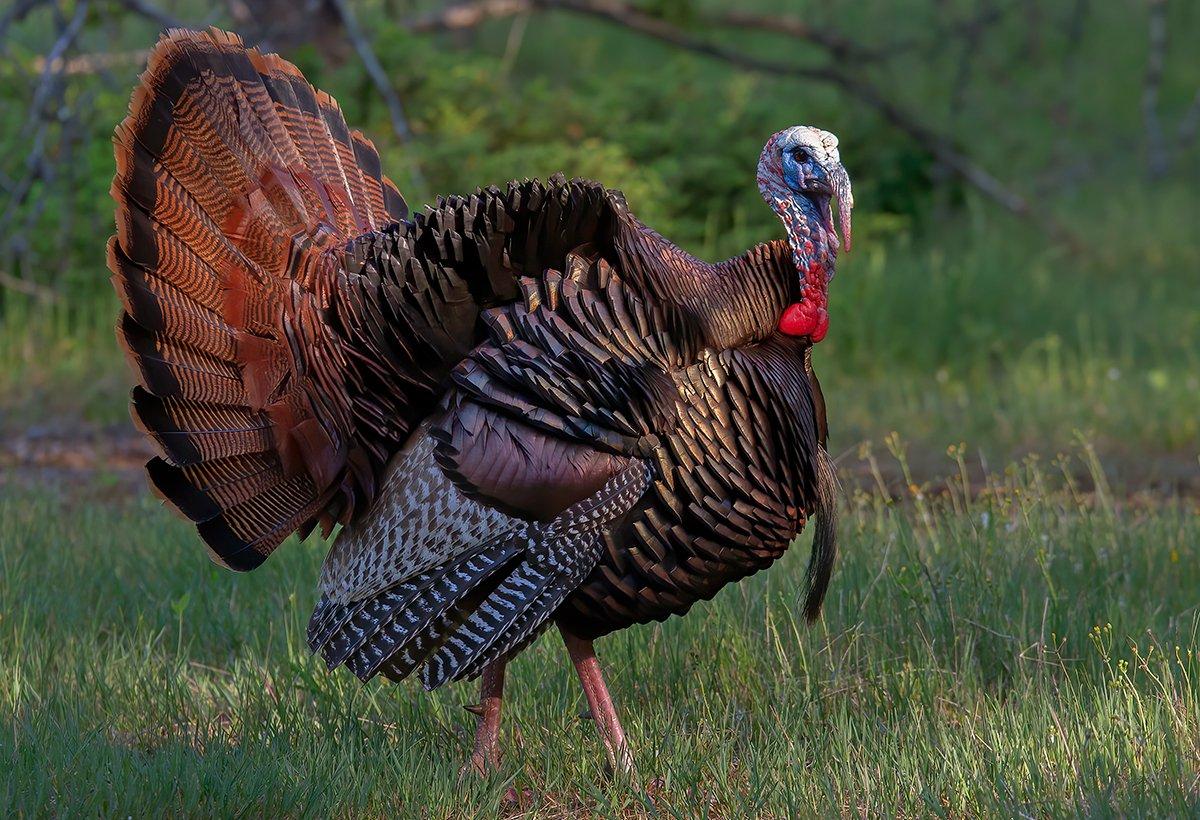 Connecticut
Steady as she goes seems to be the motto for this small but productive turkey state.
We have, so far, had a mild winter and saw relatively good productivity in our 2022 brood survey, though our 2021 brood survey indicated slightly higher productivity, said Will Cassidy, wild turkey and small-game program biologist with the Connecticut Department of Energy and Environmental Protection. Our [2022] spring success rate rose very slightly from 2021. Taking all that into account, I would expect a stable turkey population and a relatively level trend in spring hunter success for 2023.
Cassidy said the northeastern and northwestern corners of Connecticut historically see the highest hunting pressure and best productivity. Zones 2 and 5 were the most heavily hunted areas in 2022.
(Read More: Turkey Hunting in Connecticut)
Delaware
Turkey hunters in The First State can expect a spring season very similar to those of the previous few years. Delaware has seen a fairly stable annual harvest of about 600 birds per season since 2012. During spring 2022, hunters took 567 turkeys.
Private- and public-land hunters in Kent and Sussex counties are the most consistent in leading the turkey harvest in Delaware, said Gary "Adam" Macy, migratory game-bird and turkey biologist with the Delaware Department of Natural Resources and Environmental Control's Division of Fish and Wildlife. However, public-land hunters in New Castle County and northern portions of Kent County have become increasingly successful in recent years.
(Read More: Turkey Hunting in Delaware)
Maine
Spring 2023 prospects for the Pine Tree State appear strong, thanks in part to above-average turkey reproductive success the past couple of years.
Winter has been mild so far up this way, and if it keeps up that way, overwinter survival will be high, said Kelsey M. Sullivan, game-bird biologist with the Maine Department of Inland Fisheries and Wildlife's Research and Assessment Section.
Southern Maine holds the best turkey populations, and much of the land there is privately owned. However, Sullivan said, many landowners will allow turkey hunting if you simply knock on their doors and ask permission.
(Read More: Turkey Hunting in Maine)
Maryland
Bob Long, wild turkey and upland game-bird project manager with the Maryland Department of Natural Resources, said the state's overall outlook is good.
Although some regions have seen declines, other parts of the state currently have record-high numbers of birds, he said. And production during the summer of 2021 was above-average in most regions, translating into good numbers of 2-year-old gobblers.
Turkey numbers in the central part of Maryland — near the Baltimore, Annapolis, and Washington, D.C., areas — have seen tremendous growth during the past decade and now hold record-high populations.
The western mountains — Garrett, Allegany, and Washington counties — should be a good area to hunt this year as well, due to exceptionally high production in summer of 2021, Long said. The eastern region has declined somewhat from previous high numbers.
(Read More: Turkey Hunting in Maryland)
Massachusetts
Bay State turkey hunters can expect another strong spring season in 2023. Massachusetts has seen very stable harvest numbers during the past decade, and anecdotal reports indicate that 2022 was a decent production year.
We continue to see some growth in the turkey population in eastern areas of the state, said David Scarpitti, wild turkey and upland-game biologist with the Massachusetts Division of Fisheries and Wildlife. Historically, western Massachusetts offered the best turkey hunting, but now I would say it's relatively good all across the state.
(Read More: Turkey Hunting in Massachusetts)
New Hampshire
Allison Keating, regional wildlife biologist and turkey project leader with the New Hampshire Fish and Game Department, said spring 2023 turkey hunting should be on par with that of previous years.
Since 2019, the state has experienced record-high spring harvests, with more than 5,000 birds harvested each year, she said.
The spring 2022 harvest was 5,723 birds, which surpassed the previous record — 5,718 — set during the pandemic year of 2020.
Keating said wildlife management units H1, H2, J2, K, L, and M continue to see the highest spring turkey hunting success, and that trend is expected to continue.
(Read More: Turkey Hunting in New Hampshire)
(Don't miss: Why Modern Hunters Still Miss Turkeys)
New Jersey
Garden State hunters can expect another solid spring season. Jimmy Sloan, game-bird biologist with the New Jersey Division of Fish and Wildlife, said 2022 turkey recruitment was good, and biologists noted a statewide average of 3.48 poults per hen. He expected the spring 2023 harvest to be stable, with hunters taking about 2,200 to 2,700 male turkeys.
Turkey hunting areas 20, 21, and 22, in southern New Jersey, have led the state in harvest the past five years. Northern New Jersey turkey hunting areas 1, 2, and 3 have seen a recent decrease in harvest.
(Read More: Turkey Hunting in New Jersey)
New York
Turkey productivity in 2022 improved from 2021 but was still below average. And the poor recruitment from two years ago will likely mean that hunters will encounter fewer adult gobblers in 2023.
Turkey productivity in New York state continues to be a long-term management focus, and recent turkey productivity… has resulted in a lower but stable turkey population, said Michael V. Schiavone, a certified wildlife biologist with the New York State Department of Environmental Conservation's Division of Fish and Wildlife.
New York hunters took 19,355 turkeys during spring 2022.
Across the state, DEC has many locations for hunters to explore opportunities, though when it comes to turkeys, the highest harvest and population densities continue to be in the Delaware Valley and Catskills, Schiavone said.
(Read More: Turkey Hunting in New York)
Pennsylvania
Mary Jo Casalena, wild turkey biologist with the Pennsylvania Game Commission, said spring 2023 hunting in this historic turkey hotbed should be very good thanks to strong turkey reproduction throughout most of the state in 2021.
[That] provides an above-average proportion of the 2-year-old gobbler age class, the most vocal and readily callable age class, she said.
Turkey populations vary considerably at local levels, but several wildlife management units could potentially see above-average spring harvests because of strong recruitment. They include 1B, 2C, 2G, 2H, 4A, 4B, 4D, 5A, and 5B. Casalena said WMU 3A also had slightly above-average 2021 recruitment. The only WMU with below-average recruitment was 3C. The state's other WMUs had average recruitment.
Statewide recruitment in 2022 was similar to 2021 — 3.1 poults seen per all hens seen, Casalena said. Therefore, the proportion of jakes this coming spring season is expected to be above average in many WMUs.
(Read More: Turkey Hunting in Pennsylvania)
Rhode Island
The country's smallest state should see another strong spring turkey season in 2023.
From observations during the summer brood survey, we estimated an average of 3 poults per hen, which is similar to the past few years, said Elizabeth Lizzi Bonczek, upland game-bird biologist with the Rhode Island Department of Environmental Management's Division of Fish and Wildlife.
Northwestern Rhode Island has consistently seen the highest harvests, including the towns of Glocester, Burrillville, and Foster. In 2022, Tiverton was also in the top four harvest towns. About 85 percent of turkeys were taken on private land.
(Read More: Turkey Hunting in Rhode Island)
Vermont
Chris Bernier, upland game-bird project leader with the Vermont Fish and Wildlife Department, said 2022 turkey brood surveys indicated good poult production, thanks to favorable weather during critical brood rearing months.
Furthermore, winter conditions have been very mild to date, so barring any significant change in conditions, overwinter survival should be excellent again this year, and birds should be in top physical condition coming into the spring season, he said. Accordingly, hunters might expect to see more jakes and more action on the landscape next spring.
Much of Vermont offers an ideal mix of fields and forests. The Connecticut River area (wildlife management units M and O), White River Valley (WMUs J1 and J2), and Lake Champlain Valley (WMUs F1, F2, and K) are traditional turkey hunting hotspots.
Vermont is blessed with a preponderance of public land that's widely distributed throughout the state and is open to hunting, including 134,000 acres of wildlife management areas, which are always a safe bet for finding turkeys and great places to hunt, Bernier said.
(Read More: Turkey Hunting in Vermont)
West Virginia
Mountain State hunters have good reason for optimism in 2023. Turkey production in 2021 was very good. In fact, it was the highest in the past five years.
If we have a normal year, I would guess the harvest would be above last year's [9,366], said Michael Peters, wild turkey and migratory game-bird project leader for the West Virginia Division of Natural Resources, adding that anecdotal observations of turkeys have been high. It looks pretty good here in West Virginia.
The eastern panhandle and southern regions had the best production in 2021. Further, the state experienced a relatively mild winter, so overwinter survival should be up, Peters said. Fall 2022 mast production was not great, but not terrible.
(Read More: Turkey Hunting in West Virginia)
(Don't miss: The Best Semi-Guided Turkey Hunts)