Noah, Micah, and Westin McCauley stuck with it during the early season, and managed to put three awesome whitetails on the ground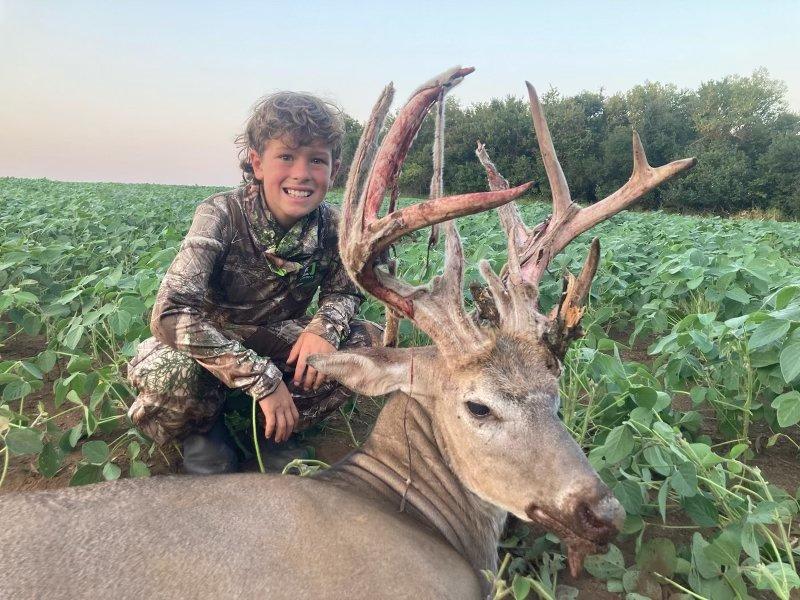 What's better than harvesting a monster buck on opening night? Well, having your brothers take their own monster bucks during the same hunt, of course. That's how it happened for brothers Noah, Micah, and Westin McCauley during the Kansas youth season in September.
Tevis McCauley, the boys' father, owns and operates Whitetail Heaven Outfitters in Kentucky, but he and his crew have been hunting the Sunflower State for years, too. We've been guiding hunts in Kansas for many years, McCauley said. In my opinion, the Kansas youth hunt is the best deer season offered anywhere in the world for kids. They get the unique opportunity to hunt bucks on summer patterns with a rifle over green beans.
Before we discuss this year's hunt, you might recall that Micah and Westin took tremendous bucks — 168 inches and 211 inches, respectively — last year during the 2021 Kansas youth hunt.
(Don't Miss: Micah McCauley's 2021 Kansas buck)
(Don't Miss: Westin McCauley's 2021 Kansas buck)
Naturally, the boys were beyond excited for their 2022 Kansas hunt, this time joined by their younger brother, Noah. We traveled through the night from Kentucky and arrived in Kansas on opening morning, recalled middle brother, Micah. We hunted right away that afternoon. I hunted with a cameraman, and my brothers hunted together in another spot. I saw only does and fawns. Noah was able to shoot the buck that he wanted with a Ravin crossbow. It's a cool triple-beamed buck that grosses around 150 inches.
Since Westin was hunting with young Noah and Noah's cameraman when the triple-beamer came out, he provided a first-hand account of the evening. Both Noah and I were targeting specific bucks in basically the same location, he started. We got settled in and started seeing deer working out into the beans fairly early that afternoon. A bachelor group of 120-class bucks came out, and since Noah had never shot a buck before, he'd have shot any of them. Fortunately, the triple-beamed buck that he really wanted came out. He made a great shot with the crossbow. He was super-excited to get his first buck, and it was really cool to experience his reaction.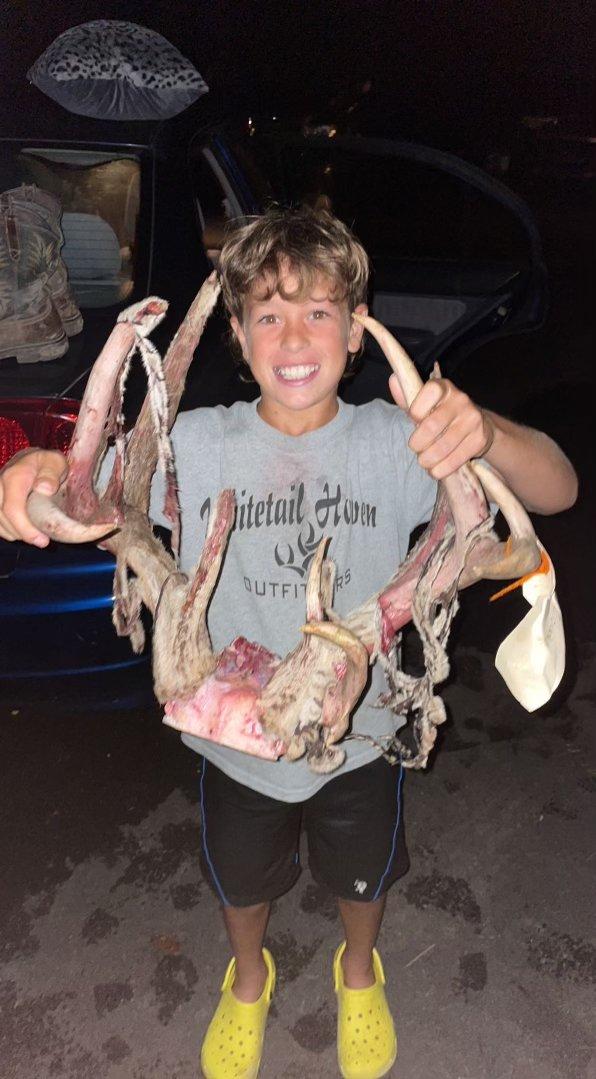 With Noah tagged out, Micah and Westin were back at it the following afternoon. Westin saw a nice buck in the distance, Micah said. He saw little bucks and a bunch of does, too. I saw a spike and five does. The afternoons were a bit slow for big bucks.
By Tuesday evening following the opener, Micah started talking about hunting in the morning. That's something the McCauleys typically don't do during the early season due to stand access and the possibility of bumping deer. However, the big velvet buck that Micah wanted was on camera in the mornings. So, Micah took a leap of faith and hunted the morning of September 7 in the same location where he'd already been diligently sitting. It proved to be a great decision.
We were setting up at about daylight, he said. Three does wandered out, and they blew and ran away. Only about 10 minutes later, the velvet buck that I wanted came out with about eight does and fawns. He stood with his butt facing us for nearly 30 minutes. It was really foggy that morning, which made it difficult to see. Finally, he turned broadside. I shot him, and he ran only about 10 yards and fell over. We haven't scored him yet, but we think he'll gross in the mid-180s.
With two studs tagged, big brother Westin was the clean-up batter.
We didn't pressure the spot where Noah got his buck too much because it didn't run very far, Westin explained. So, I hunted there on four different evenings — it isn't easy to access in the morning without spooking deer off the beans. I saw deer every evening, but the one I really wanted to harvest just didn't show up. He's a really cool tight-racked buck with 15 or 16 points and four flyer points on his right side.
Despite his desire to hunt his target buck, time was running out and Westin knew that he needed to switch things up. He and his cameraman not only hunted the afternoons where Noah got his buck, but they also hunted the mornings where Micah got his deer, since the big flyer buck had been on camera several times there prior to the youth hunt.
(Don't Miss: Youth Duo Teams up to Drop 175-Inch Wisconsin Giant off 3-Acre Suburban Parcel)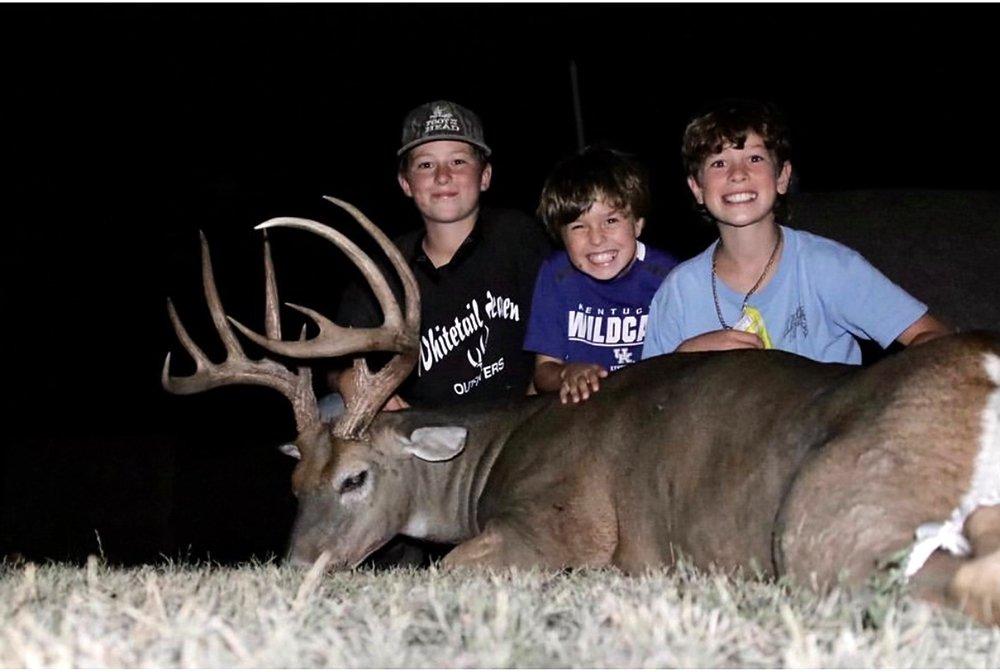 We had some other spots in mind to try that were showing lots of deer on the trail cameras, Westin said. After hunting four afternoons where Noah shot his buck, I switched to a milo field. The milo field didn't produce, so we decided to try a bean field about 15 miles away from the area I'd been hunting.
Westin got situated on the new bean field at about 3 p.m. that afternoon. With no stand or blind in place, he and his cameraman hunted on the ground.
We set up about 200 yards away from the wood line that we expected deer to come from, Westin said. Our trail camera at that location was showing a really nice 10-pointer, but the last picture we'd gotten of him was three days earlier, and he was still in velvet at that point. Anyway, we'd been sitting there for about an hour when some does walked the edge of the beans and then slipped back into the trees.
At about 6 p.m., deer movement picked up. A couple of 130- to 140-inch deer came out and worked across the beans.
About an hour before dark, a bachelor group of bucks came out, Westin said. The big 10-pointer was in there. He'd shed his velvet, which is probably why he'd disappeared from the trail camera for a few days. When he offered me a shot, I took him. He's a really nice buck and grosses right around 155 inches.
Taking three tremendous bucks in less than a week of hunting is no small feat, especially when enduring hot Kansas temperatures in September. But the task wasn't too tall for the young McCauley brothers. With their highly successful Sunflower State hunt in the rear-view mirror, the boys are now focusing on hunting around home. If their Kansas hunt is any indication, I'm sure some big Kentucky bucks are in big trouble.
(Don't Miss: Monster Bluegrass Buck with Crazy Mass)