Turkey hunters wishing to explore the Wild West this spring should find good opportunities.
The West probably inspires more turkey hunting dreams than any other region, and for good reason. With broad mountains, expansive prairies, and other scenic vistas, it's an easy bucket-lister. And turkey hunting is typically very good.
That shouldn't change in spring 2023, as biologists in most Western states anticipate continued quality opportunities. Drought and heavy snowfall might have hampered bird numbers in a few areas, but overall, the West looks prime for another banner season.
Here's a state-by-state look at what Western turkey hunters can expect in 2023.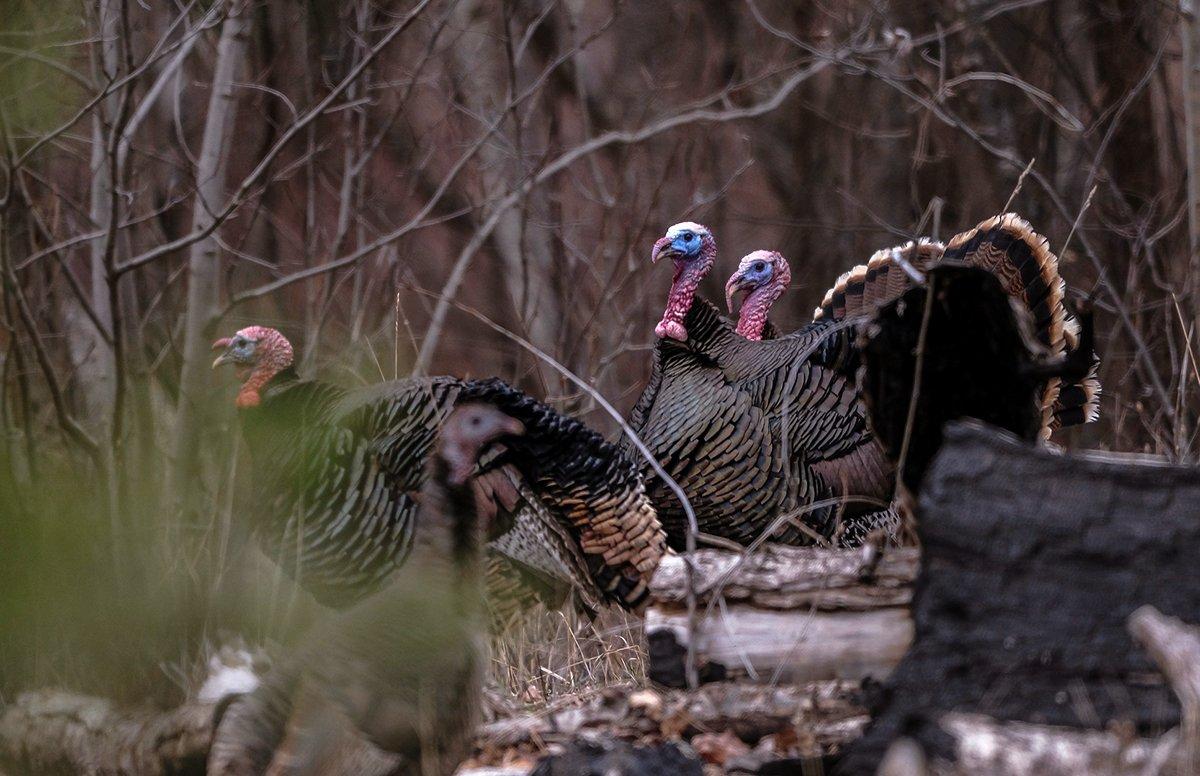 Arizona
Rick Langley, Region 1 game specialist with the Arizona Game and Fish Department, said hunting for Gould's and Rio Grande gobblers should be good this spring. Tags for both subspecies are limited. Merriam's hunting might be relatively tough, as drought during 2020 and 2021 limited poult production.
But this past summer, we saw good monsoon moisture, he said. And we are currently above average for the winter of 2022-23, so that could help improve habitat conditions even more.
Langley said units 1 and 27 in the eastern part of Arizona are his favorites. Permits were reduced on the North Kaibab (Unit 12A). Units 17A, 17B, and 20A, in the central part of the state, have low permit numbers but are recovering and still offer some quality hunting opportunities.
(Read More: Turkey Hunting in Arizona)
California
Winter 2022-23 has brought record rainfall to the Golden State, providing some relief to drought conditions in the Great California Valley and surrounding foothills, and setting up good conditions for spring hunting.
Spring 2023 should provide some excellent opportunities, said Matt Meshriy, environmental scientist with the California Department of Fish and Wildlife's Upland Game Program. Flooding or mudslides could be an issue in some locations impacted by strong storms this winter, particularly in areas with burn scars from recent wildfires.
Rio Grandes are the most common subspecies in California. Merriam's and Easterns inhabit northern portions of the state. Eastern/Rio Grande hybrids have also been released, and hybridization between subspecies has likely occurred in some areas.
Low-elevation national forests and areas along major rivers in the Central Valley have an abundance of turkeys, Meshriy said. The national forests in the Coastal Mountains, such as Los Padres, Mendocino and Shasta-Trinity, as well as most of the national forest in the Sierra and Cascade ranges, all have turkeys at lower elevations.
Meshriy said many wildlife areas and refuges administered by CDFW and the U.S. Fish and Wildlife Service also provide good hunting opportunities along the Sacramento River and Feather River in the north Central Valley. The CDFW holds drawings and hosts many spring opportunities for turkey hunting.
(Read More: Turkey Hunting in California)
Colorado
Spring 2023 should produce fair to good turkey hunting in the Centennial State, according to Ed T. Gorman, small-game manager for Colorado Parks and Wildlife.
Although significant portions of the state suffered from severe drought in 2022, all indications are that turkeys are doing pretty well in Colorado, he said.
Merriam's are Colorado's prime subspecies, inhabiting areas west of Interstate 25 and along the southern portions of the Front Range. The state also has Rio Grandes, but they're limited to the river bottoms of the Platte and Arkansas rivers, as well as other tributaries in the eastern portion of the state.
(Read More: Turkey Hunting in Colorado)
Hawaii
Kanalu Sproat, wildlife biologist with the Hawaii Department of Land and Natural Resources Division of Forestry and Wildlife, said turkey hunting on the Big Island should be similar to opportunities during the past two to three years. About 330 hunters took 44 birds during 2022.
Some hunters experience good success in the sprawling Mauna Kea Forest. However, Sproat said private land — if you can gain access — is a good bet.
(Read More: Turkey Hunting in Hawaii)
Idaho
Gem State turkey hunters should expect another strong spring, according to Jeffrey M. Knetter, upland game and migratory game bird coordinator for the Idaho Department of Fish and Game.
Years ago, Easterns, Merriam's, and Rio Grandes were released in Idaho. Because of mixing and trap-and-transplant efforts, there are probably no pure subspecies in the state. Knetter refers to the hybrids as Idaho mountain turkeys.
A hunter could get three-fourths of their Grand Slam with one Idaho mountain turkey, he said jokingly.
Since 2010, hunters have taken about 4,700 birds per spring, with a 34 percent statewide success rate. The Panhandle and Clearwater regions consistently have the highest harvest and success rates — higher than 40% rates in recent years.
(Read More: Turkey Hunting in Idaho)
Montana
Turkeys in southeastern Montana are on the rebound after several years of extreme drought conditions, which bodes well for 2023 and beyond.
The region received areas of fair to good moisture and produced good growing conditions in 2022, which greatly improved the quality and quantity of nesting cover on the landscape for the spring of 2023, said Justin Hughes, upland game bird habitat specialist for Montana Fish Wildlife and Parks in Region 7.
Hughes said hunters should focus on smaller areas that contain everything turkeys need in their daily lives.
These areas of highest quality habitat will be the best starting spots, as populations are currently rebounding and expanding back into the marginal habitat areas since the region began getting more normal precipitation levels, he said.
(Read More: Turkey Hunting in Montana)
(Don't miss: Where Do Winter Turkey Flocks Go?)
Nevada
Shawn Espinosa, upland game staff specialist with the Nevada Department of Wildlife, said turkey populations there are mostly stable or decreasing slightly because of extended extreme drought during the past decade.
During this winter, however, Nevada is experiencing well-above-average snowpack — more than 170% of average — which might affect winter survival, particularly for Merriam's turkey populations or where Rios inhabit more mountainous terrain, he said. Western Nevada river-bottom Rio Grande populations should be able to take advantage of above-average moisture and plant growth, which should lead to greater productivity this spring and summer.
Espinosa said turkey populations between Battle Mountain and Austin, in north-central Nevada, are doing well, as are Lincoln County turkeys in the southeastern portion of the state. Turkey populations in Lyon County and those associated with the Mason Valley Wildlife Management Area are below objectives.
(Read More: Turkey Hunting in Nevada)
New Mexico
Turkeys in The Land of Enchantment are struggling a bit because springs have been very dry the previous few years. Casey Cardinal, resident game-bird biologist with the New Mexico Department of Game and Fish, said there are still birds throughout the state, but hunting success could be somewhat lower this spring.
Most mountain ranges in the state hold healthy numbers of Merriam's, which are the most populous subspecies in New Mexico. Rio Grandes are less widely distributed, and primarily inhabit the Rio Grande River area south of Albuquerque and the Canadian River Basin north of Tucumcari. You'll also find Gould's turkeys there.
Drought was widespread across the state, so there are no areas that are particularly promising, Cardinal said. Drought was a little less severe in the southwestern and very northern portions of the state, so reproduction may have been better there.
(Read More: Turkey Hunting in New Mexico)
Oregon
Mikal Cline, upland game bird coordinator for the Oregon Department of Fish and Wildlife, said Oregon's spring 2023 turkey hunting outlook is excellent. The state experienced good wintering conditions, and overall turkey populations are increasing. The state features Rio Grandes and Rio/Merriam's hybrids.
Populations remain solid throughout the Blue Mountains, and the Umpqua, Rogue, and Willamette valleys, he said. Populations may be down somewhat in the Lower Deschutes area due to poor nesting outcomes in 2022.
(Read More: Turkey Hunting in Oregon)
Utah
Conditions vary throughout the state, but Utah has experienced some harsh weather during winter 2022-23. Heather Talley, upland game program coordinator with the Utah Division of Wildlife Resources, said that might contribute to an overall decline in turkey populations.
The northern and southeastern regions might see a decline due to harsh winter conditions [increased snowfall and decreased temperatures], she said. Some areas of the southern region have seen an increase in poult production this summer, and [biologists] anticipate an influx of jakes this spring. Other areas in the southern region are still lower than in the last few years due to drought conditions. Very few turkey complaints have been reported on the Monroe or Fishlake [areas], and biologists haven't seen a significant population increase, either. This winter may be hard on turkeys in these areas, because there's more snowfall and colder temperatures than recent years.
Talley said Utah has no real hotspots, as conditions and turkey abundance vary by area.
Most of the turkeys in the southeastern region reside on the La Sal and Abajo mountains, along the Green and Colorado rivers, and many small, isolated populations are found in the riparian habitat in Carbon, Emery, and Grand counties, she said. The central region has also experienced heavy snowfall and cold temperatures, but there are also many south-facing slopes where the snow is burning off and allowing access to feed. We will likely see some loss of populations in the areas with consistent powdery snow and cold temperatures, but there are other areas that are inhabitable.
(Read More: Turkey Hunting in Utah)
Washington
Turkey hunters in Washington do well — consider a 48% success rate in spring 2022 — and that should continue in 2023.
The state has three subspecies. Easterns are the only turkeys in western Washington, inhabiting Lewis, Pierce, and Thurston counties. Hunters can find Merriam's throughout central and northeastern Washington. Rio Grandes are concentrated in the southeastern corner of the state, but some have also hybridized with Merriam's in northeastern Washington.
The northeastern part of the state consistently produces abundant turkey populations, said Sarah Garrison, small game and furbearer specialist with the Washington Department of Fish and Wildlife. Hunter success here was 60% in 2022.
(Read More: Turkey Hunting in Washington)
Wyoming
Joe Sandrini, senior wildlife biologist with the Wyoming Game and Fish Department, said turkey hunting should be very good this spring, depending on the location.
Wyoming has had above-average poult production and survival the last three years, and there are good numbers of 2-year-old toms in many places, which are the birds the vast majority of spring wild turkey hunters harvest, he said.
Merriam's are the most abundant subspecies in Wyoming. There are some pockets of Rio Grandes and hybrids in the eastern part of the state.
Private lands in Sheridan, Johnson, Converse, and Natrona counties have substantial numbers of wild turkeys, Sandrini said. Look to hunt these on a Type 3 license, which can be purchased in addition to a general license after the license draw if any are unsold in the drawing.
(Read More: Turkey Hunting in Wyoming)
(Don't miss: How to Triangulate a Roosted Turkey)

Click here for more turkey hunting content from Realtree.com. And check us out on Facebook.